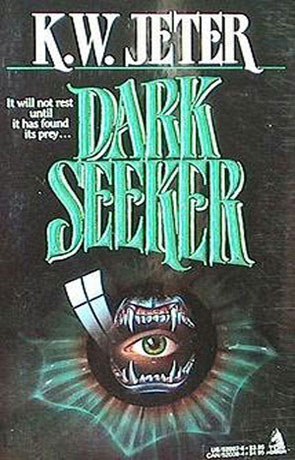 Book details
Dark Seeker

Publisher:

ISBN:

Published:

1987

Pages:

320

Format reviewed:

Paperback

Review date:

19/08/2010

Language:

English

Age Range:

N/A
About the author
Dark Seeker is a speculative fiction novel by K W Jeter.

This is basically a horror novel with group drug use/experimentation as the theme.

Like a Tim powers or Phil dick book it's got a skewed version of Los Angeles where a group of kids under a university teacher -and a off track manipulative drifter kook- loaded up on a drug that had set experimented on monkeys to freak out and kill themselves. this drug has some ***group sharing mind**demon type that goes with the subconsious to see peeled back barred teeth (a real common thing that one would see if you had a top ten of base things that frighten a person, right?) that open and talk to you telling you secrets thru others/corpses/darkness. When someone you know likes drugs there's a sort of arrogance of 'what do you know' going on that the characters in the know/on the drug/demon are looking down their nose at the rest of the world, the whole thing is how bad you fool yourself which is what the point of this great book is. Illusion is probably the biggest well sold placebo there is. Drugs give you the illusion and the users in this book have to fight the chemical which never leaves the body so the demon group mind they share is always there just suppressed swimming around in the murky pool of the subconcious.

I didnt think much of it when I FIRST finished the book, but in context with all the addicts and fools I know this made me feel like a church gargoyle looking out over a witch hunt in some zombie thrash pit. Not only that, its really well written, like Tim Powers books sans the fluffy endless descriptions, and you can see the crudville that LA is, not like you want to see L.A. at all (or anyone not seeking dianetics or plastic surgery alterations)......psychotic read.
Written on 19th August 2010 by number 6.
You may also like