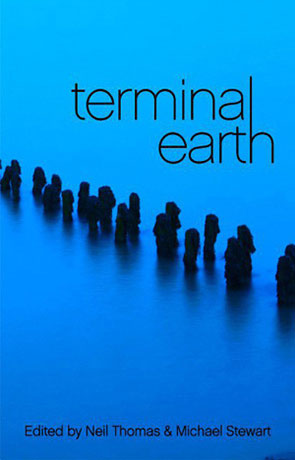 Book details
Terminal Earth

Publisher:

ISBN:

9781456428907

Published:

December 2010

Pages:

208

Format reviewed:

E Book

Review date:

03/01/2011

Language:

English

Age Range:

N/A
Terminal Earth is a collection of original short stories that all feature the end of the world in some way, edited by Michael Stewart and Neil Thomas.
With 23 tales of the apocalypse, Terminal Earth offers a great deal of compelling tales from talented authors. Despite the common theme there are some very different styles present here many of which don't use any of the standard science fiction tropes. Presented here are 23 different ways human civilisation could perish from genetically engineered super-wheat, the death of the Sun and eerily topical Mass death of animals (as seen at the start of this year) amongst others.
If were to disregard the post-apocalypse scenario many of these tales would be considered more mainstream fiction. This works surprisingly well and I would even suggest that those people that are not scifi fans will enjoy this anthology.
Fields by Desmond Warzel
The human race has been wiped out by genetically engineered "super-wheat" and a group of survivors play the final ever world series. Narrated from the perspective of an african american homeless man with a melancholy, bittersweet style.
First at the Dump by Barry Pomeroy
Sometime in the future and the inhabitants of a small island eke out their meagre existence by digging up long buried food and artifacts of a civilisation long passed from what appears to be a landfill site. A discovery suggests that perhaps their island isn't the final resting place of humanity. Narrated from the first person perspective of the young gifted digger that find the ultimate treasure.

As the Sun Sets by Frank Rogers
What would you do with the last day of earth?, that's the question that is pondered by Two people watching the final ever sunset set. Short and sweet (like humanities lifespan) this story examines the futility of man.
Tattoo by David Turnbull
This short story takes the idea of the "living tattoo" that has seen life in the Twighlight Zone, tales from the Crypt and other stories and then takes the concept one step further. If you have ever had any doubts about getting a tattoo then this will make sure you never consider it ever again.
The God Complex by Neil John Buchanan
This is very much like the story in Star Trek: The motion picture, a probe is sent off into the remnants of the Big Bang in search of proof of the maker and returns with delusions of omnipotence. Only a woman with symbiotic armour stands between the god probe and assimilation of the human race.
Outstanding Matters by Neil Coghlan
If you have ever been a part of any community committee or association then you will really relate to this story. As the earth gets ready to meet it's destruction a neighborhood group tries to inject a air of normality to the end of days. This is a darkly amusing and yet also quite sad story which has been very well written.
Lucky Heather by Jonathan D. Harris
The very beginning of this short story sums up British sensibilities perfectly "But you can't leave!", "The world is going to end tommorrow...And it's Christmas!". That short sentence describes the illogical attitude that pervades humanity in the face of adversity. The plot follows the attempt to escape the impending apocalypse through the use of time travel (or at the very least astral projection), an interesting if a little strange) idea that is played out well by the author.
The Cooling Sun by Scott Davis
The Cooling Sun, as the name suggests describes the end of the earth as the heat from the sun dies out, causing the next Ice Age (and no intervention from Dennis Quaid or Roland Emmerich either). This short story shows how different people change when faced with extreme adversity, with examples of humanity at it's best and worst.
Jump by Andrew Hook
It's good to see the classic destruction scenario is here and present, the old planet destroying meteor as seen in many Hollywood movies get's the Terminal World treatment but with a very unusual solution (rather than send a bunch of Actor's up in a NASA shuttle to drill a hole and plant a nuclear bomb). What's really great about this little story is the way it deals with humanities predilection to accept any strange or outlandish solution in desperate situations.
The Tipping Point by Bill Schwarz
At the extreme end of the optimist scale the end of the world could be seen as not a bad thing at all, and not just due to the destruction of Lawyers, Estate agents and Bankers. One thing it could do would be to put everyone's priorities in the right perspective, a little extreme I will grant you but nevertheless it's explored to great effect here.
You Can't Force an Owl by Simon Hood
Reading this tale and others here, I can't help wonder if anyone would really go off to work knowing that the world will end that day (great I only have to work a half day today!). I can't imagine I would even think about work on the very last day of existence, and many people in this country slack off for much less important reason's (like a hang over, manflu, world cup match etc). Here the cause of earth's destruction is the work of terrorist's who are determined to overthrow the world order. This little story has all the more impact for the fact that it all sounds so plausible, a very sobering thought indeed.
On a Beach at the End of the World by Mark Romasko
On a Beach at the End of the World is a very short and sweet poem, very much to the point and well written.
Light at the End by Donna Burgess
Light at the End happens to be alarmingly prophetic as it deals with the announcement of the apocalypse via the mass death of Fish and Birds, something that's been happening on a large scale since the start of this year in many different places around the globe. I do very much hope that the author doesn't know something we don't. On a related subject the Telegraph predicted that there was a 7 in 10 chance of an apocalypse through Bee Colony Collapse Disorder (CCD).
The End of Dave by Jamie Marriage
You could be forgiven for thinking that this story deals with the closure of the popular freeview and sky digital TV channel but worry not, it's only about a big "corporate restructure". Very much in the theme of Douglas Adams, this is the real comedy moment of the book, it will make you laugh out loud more than once.
The Fire We Deserve by Alexander Zalanyj
I don't know about you, but I don't think I've done anything bad enough to deserve a fire on this scale, non the less this story describes the witnessing of a planet scorching event.
Fragment by N.E. Chenier
What could be worse than dying in an apocalypse? surviving the aftermath if this story is anything to go by. Very well written in a mature manner and quite explicit, not recommended for the younger reader.
The Gloss of Midnight by Amanda Taylor
One of the few stories that actually offers a small hope of survival for the human race, mankind has a starship to transport a group of selected individuals away from the dying earth but there is something else that doesn't want to be left behind either.
Cycle by Ian Steele
Cycle is just a fantastic idea to the end of human kind, eaten by a very very big monster and there isn't anything you can do about it but wait.
Homecoming by John Atkinson
Homecoming features the return to what's left of earth of a young man who has spent most of his life labouring in space, he returns to confront his parents who abandoned him at a very early age. Quite powerful and written in a space opera style.
Beyond Black by Natalie J.E. Potts
Beyond Black is a tightly scripted, claustrophobic and quite paranoid journey of soldiers holed up in an underground bunker to ride out the apocalypse, little are they prepared for what awaits them topside.
A Quiet Pint at the End of the World by Robert Long
This story does excatly what it says on the tin as two guys share a drink in a pub and talk about women, not the most exciting vision out there but probably the most realistic.
The Beautiful Room is Empty by Erick Mertz
This is quite an interesting story about a group of humans making their way through an alien warehouse but it doesn't quite work and there does feel like something is missing from the tale.
Pa's Worm Farm by Jamie McNabb
I remember as a child reading a book called "how to eat fried worms" (written by Thomas Stockwell) and Pa's Worm farm really did give me a sense of deja vu. If most on the animal and plant life die out after an apocalypse what food then will be left to eat.
Terminal Earth is a stylish and imaginative mix of stories, well worth a read or 23.
Written on 3rd January 2011 by Ant .
You may also like