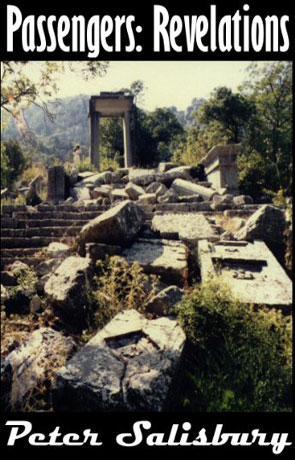 Book details
Passengers: Revelations

Publisher:

ISBN:

Published:

May 2012

Pages:

375

Format reviewed:

E Book

Review date:

25/07/2012

Language:

English

Age Range:

N/A
About the author
Passengers: Revelations is the third novel in the series and brings together characters from the first two novels while expanding the story. The media are in a frenzy over imagined "man-eating" aliens while Symch and Goster are incarcerated following their previous escapades.
Spider technology is now licensed to industrial companies for a price while Raife and Nancy find danger in their semi-tropical city; their science teams find it very slow going on figuring out the technology that the long-vanished Zetans left behind.
It makes sense to read the first 2 books in the series before attempting this novel as there isn't really any space given to bringing the reader up to speed. The main story involves the return of the bad guys and as such the Zeta-nine plot is more of a sideline than anything else but does provide a nice break to the main story. Characterisation has improved over the previous books and as a result there is a greater draw into this Passengers universe, it's great to read about Raife and Nancy again and the relaxed pace is still evident in the writing although I would have liked to see those characters play a greater role, especially as for me the Zeta-nine story was a more thought provoking one. The way the author brings these two stories together is very clever and makes perfect sense.
The book does take a little while to really get going and even once it does the pace doesn't pick up noticeably, preventing any real form of dramatic build-up. The story itself is quite engaging though and there are some interesting ideas taking shape here. Ben and Lori make a great team and there is a some marvelous use of subtle humour evident in the interplay between these two characters.
I did find the plot meandered a great deal more than the previous novel and when combined with the sedate pace it didn't feel as compelling or as focused. I think with a little more editing there would be a much greater sense of immersion and a greater degree of clarity to the story. The author does have a clear style which helps while the characters are very engaging, all in all a good solid novel and one that's worth reading if you've read the first two novels in the series.
Written on 25th July 2012 by Ant .
You may also like