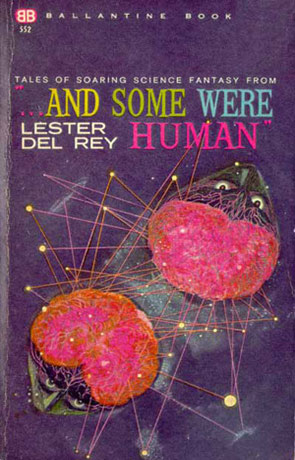 Book details
And some were human

Publisher:

ISBN:

Published:

1943

Pages:

352

Format reviewed:

Paperback

Review date:

01/07/1999

Language:

English

Age Range:

N/A
About the author
And some were human is a collection of short science fiction stories by Lester del Ray.

If I tell you that this book contains nine of Lester del Reys finest stories, that they are copyrighted 1938-43, where published in Unknown and in Astounding Science Fiction (now Analog) and that the book is dedicated to John W. Cambell, jr. you'll (hopefully) already know what kind of stories to expect. Nice, tight and well-written SF with an interesting twist. To mention a couple of them (there's eight altogether):

Hereafter, Inc.
Nice little story about the afterlife. There just might not be a paradise for everybody...

The Luck of Ignatz
Then the luckiest man in the solar system takes on a bad-luck bringing pet the results can be disastrous … for everybody else.

The Renegade.
Intelligent gorillas hiding in the mist's of Africa? Well, in this story they even have an encyclopaedia.

Besides the stories mentioned above, the book also contains The Day Is Done, Forsaking All Others, Dark Mission, Helen O'Loy and The Wings of Night.
Written on 1st July 1999 by TC .
You may also like