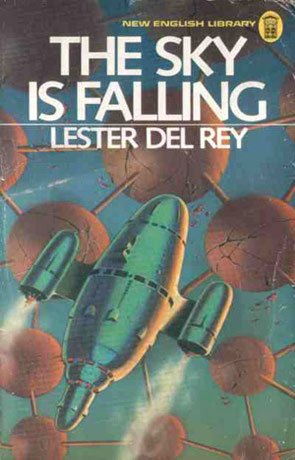 Book details
The Sky Is Falling

Publisher:

ISBN:

Published:

1973

Pages:

130

Format reviewed:

Paperback

Review date:

01/12/2000

Language:

English

Age Range:

N/A
About the author
The Sky Is Falling is a speculative fiction novel by Lester del Rey.

Waking up in a world of magic isn't an easy experience for, just dead, computer engineer Dave Hanson. It doesn't get any easier for him when he learns that the sky is falling and he has been destined to do something about it!

Coming to terms with a world that doesn't make much sense to him and the fact that somebody is trying to kill him, kind of preoccupies him from the job of saving the world, but even if he literally is the wrong man for the job, he is forced to take the matter into his own hand.

At a hundred and ten pages this is just about the shortest book that I've ever read. I actually read it in just about two hour. Del Ray has written a neat story, which is mainly based on the idea that, there may be a world where the symbol is the object, as opposed to this one where the symbol mostly just points to the object.
Written on 1st December 2000 by TC .
You may also like