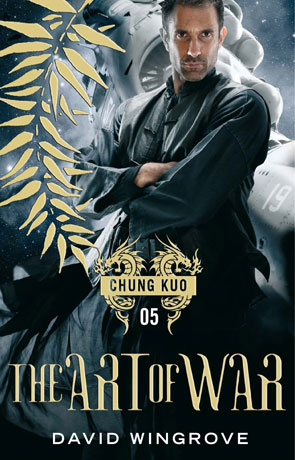 Book details
The Art of War

Series:

Chung Kuo

Publisher:

ISBN:

9780857890719

Published:

March 2013

Pages:

288

Format reviewed:

Paperback

Review date:

19/07/2013

Language:

English

Age Range:

N/A
Books in the series
About the author
The Art of War continues David Wingrove's epic re-imagining of the Chung Kuo, the fifth novel in the 20 book series and things are starting to really heat up. It's five years after the events depicted in Ice and Fire and the story picks up in the summer of 2206. The Dispersionists who have vehemently fought for change and technological advancement have been defeated by the Seven ruling families; the T'ang. For the T'ang stability, peace and an equilibrium are most important but achieving this once more has come at a high price. The T'ang have been weakened by the great war with many family members perishing and to make matters worse the most infamous Dispersionist Howard DeVore remains at large, plotting again to overthrow the Seven.
It's an interesting move by the author to concentrate on the after-effects of the "great war" rather than the war itself; a brave, if disappointing choice but one that is ultimately rewarding. Rather than spend time on a myriad number of threads, Art of War focuses almost entirely on the Dispersionists plot, the enigmatic Hans Ebert and the welcome return of Ben Shepherd. This results in a tighter and swifter read than the previous few volumes and draws the reader into the story to a greater degree. I felt much more immersed than I had since the second in the series and the pace is set just right.
One of the major changes that have been brought about by the war is the changes to the seven themselves, several of them have fallen and for the most part their replacements are young and hungry for power while also seeming to have less aversion to change and less respect for tradition. I loved how the author manages to show that even though the Dispersionists lost the war they have in some respects brought about change, or at the least the beginnings of change. This volume is also clearly staging people and getting them into position for expansion in the story sometime down the read. It feels like the book moves forward more than the last two combined and really gets the anticipation building for the next in the series (although the ending is a little more abrupt than I'd have liked).
The Art of War is a rewarding read, a well written and tightly focused story which manages to add to an already impressive series.
Written on 19th July 2013 by Ant .
You may also like