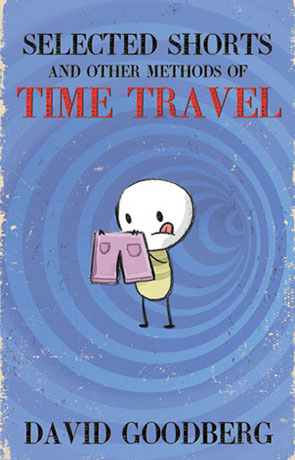 Book details
Selected Shorts and other methods of time travel

Publisher:

ISBN:

Published:

February 2011

Pages:

312

Format reviewed:

Hardback

Review date:

19/11/2010

Language:

English

Age Range:

N/A
Selected Shorts and other methods of time travel is a collection of short stories especially created for Young Adults, written by David Goodberg.

The Year is 2051 and time travel has become a commercial success. Opportunities abounded for curious history buffs, futurists, and corrupt entrepreneurs. Selected Shorts and other methods of time travel is a collection of 37 short stories that explore time travel tourism and its repercussions. With a wide variety of settings from deep space to Wisconsin and featuring future World Wars, the Icelandic Mafia, vigilante space aliens and of course time-traveling tourists Selected Shorts has something for anyone wanting a short sharp tale about time travel.

The book itself is very nicely illustrated by the talented artist Antonio Deleo and really captures the imagination. Inside we have 37 short stories that all have the commonality of somehow featuring time travel. The majority of these shorts are firmly rooted in science fiction and feature re-occurring corporations, giving a nice continuity to the whole book. Each is also spaced with random time travel factoids such as the galaxy wide Chromonzondo chocolate bar (introduced in 2088) and the reaction to the discovery of Cold-Fusion.

There is a real quirky energy to the book, with well written prose and subtle humour. Each story manages to convey the intended message with great delivery and there are some really interesting ideas presented here. Some of my person favourites include "World at War", which features a future earth still bickering and tearing each other apart, until something earth shattering happens (but was it planned?). "Con-Science" tells the story of a simple farmer who begins hearing a voice in his head after a meteor crash, which will change his life forever. "The New World" which envisages a colony spaceship sent towards the distant Star Sirius, but what would happen if all the adults died, leaving the kids to run the ship?

Selected Shorts and other methods of time travel is a great collection of time travel short stories, quirky, fun and above all a great read.
Written on 19th November 2010 by Ant .
You may also like