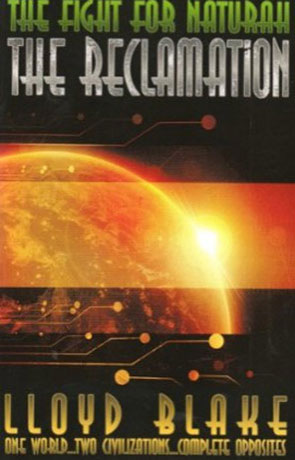 Book details
The Fight for Naturah: The Reclamation

Publisher:

ISBN:

Published:

August 2010

Pages:

502

Format reviewed:

Paperback

Review date:

09/09/2010

Language:

English

Age Range:

N/A
The Fight for Naturah: The Reclamation is a speculative fiction novel by Lloyd Blake.

The Year is 2085 and Mark Ashton has just finished his term as the President of the United States of America. Leaving in his wake a very successful 8 years with an improved economy, increased employment and a safer, more secure America.

Taking a well earned Holiday with his wife Reanna, his closest friend - ex Vice President Bobby Johnston and Bobby's wife Imogen, they begin a luxury cruise aboard the good ship Endeavour. Setting out under clear blue sky's, it isn't long before a massive storm emerges from nowhere and after nearly loosing their lives to a huge whirlpool, the ship emerges in a completely alien world.

The world of Naturah is inhabited by two distinct races, the Naturahans - ruled by Queen Samoiyra and the Teknans - ruled by Cyphinium. These two races are complete opposites, the Naturahans live simple lives enhanced by natural powers of the mind, while the Teknans are a very technologically advanced race. These two races are poised on the brink of war, a war that will shatter a thousand years of peace.

The Fight for Naturah: The Reclamation is a very interesting book, the beginning paragraphs are fairly standard 21st century fare, with the intriguing twist that the President encouraged self defence classes for all to reduce violent crime and promote a perception of a safer environment (not a bad idea) and then suddenly the novel changes into a more speculative fiction novel mixing fantasy and technological elements with the arrival of the Naturahans and the Teknans.

The story itself is essentially the tale of technology versus magic and this provides messages of race, equality and repecting those different to ourselves, which while not entirely original, is nevertheless told in an intelligent manner and the quality of writing is good. The pace of the plot does fluctuate throughout the book but most of this is due to back story and general world building.

While the novel is technically very well written I must admit to finding some difficulty with bonding to the principal characters, although each has a good back story they seemed somehow quite two dimensional and flat. That said The Fight for Naturah: The Reclamation is an accomplished novel, it's got some really great ideas, some good fight scenes and a good solid storyline. The novel is also fairly easy to read and doesn't delve too much into the technical details and as such should appeal to most readers, hardcore and casual alike.
Written on 9th September 2010 by Ant .
You may also like