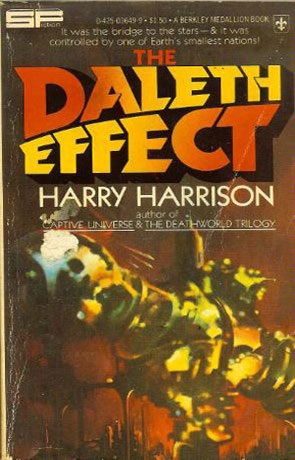 Book details
The Daleth Effect

Publisher:

ISBN:

Published:

1970

Pages:

245

Format reviewed:

Paperback

Review date:

26/08/2002

Language:

English

Age Range:

N/A
About the author
The Daleth Effect is a science fiction novel by Harry Harrison.

Denmark has the Anti Gravity Device!

Wouldn't it be nice if one of the non-bully invade the world and dominate countries got a hold of the perfect insta travel to the moon devices? Denmark gets it and does everything it can with it's tiny bug claws to hold onto the secret of anti-gravity.

They hook up a submarine with it and fly it around. They pick up some cosmonauts stranded. Harrison makes the USA into the big jerks they can be with the police tactics of bully and suggestion with eventual blackmail to get what they want. The Danes get on the new anti-grav cruiser with some Carlsberg and take life the way it should be taken. Towards the end of the book one of the Danes tells off a CIA scumbag ...In the name of God you do evil. For national pride you will destroy mankind..... Great!

Well if the Danes dominate with their humanitarian (gaddam commies is what they are with that medical standard issue cards!!) slant on life then you might have a less stressful world. I mean you, not the country of Denmark who is up to their neck with spying/sabotage now n' then in this book. Although absolute power corrupts so Denmark could be another US.. So, anyways, this book is a fun quick read, not mind plowing, but good hypothetical political balance of power of good guys vs. jerks with security and domination issues yarn. I liked it, but it doesn't do much other than portray and try for honesty look at what it could be like if Danes rule the world in developing quicktime travel.

I think Harrison hit the spot with this as I would trust a Dane before any USA politician....What do you think tc? Best place in the world to have a world altering technology???I know some swiss that say: Switzerland isn't neutral. Swiss Army shot Jews coming over the mountains pre WWII........
Written on 26th August 2002 by TC .
You may also like