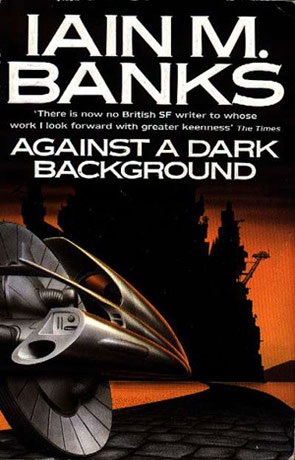 Book details
Against A Dark Background

Publisher:

ISBN:

Published:

January 1995

Pages:

496

Format reviewed:

Paperback

Review date:

01/08/2000

Language:

English

Age Range:

N/A
About the author
Against A Dark Background is a novel by the noted author of science fiction Iain M Banks.

Yes, more Banks - Since Crow Road and Use Of Weapons he has definetly become one of my favorite authors. Against a Dark Background is Science Fiction at its best. Suspence, love, action and high-tech gadgets are used in a well thought-out universe with interesting characters, that you get to know so well that you will actually care about what happens to them.

Sharrow is an ex-soldier who finds herself hunted by the religious cult, The Huhsz. They believe that her lack of being dead is the only obstacle standing between themselves and the return of their "messiahs".

Sharrow finds herself hunted around the planet of Golter, and she soon finds that she will need the help of her old friends-in-arms; not just to escape the Huhsz, but, also to find the lost, ancient weapon The Lazy Gun. The old combat team takes us on a tour of a strange world, that is a credit to Banks' imagination.

As usual with Bank this is not just a mad run around Golter, but also a journey in to Sharrow's past. While the story may not be as strong a story as Use Of Weapons, this is still better than a lot of the stuff you will find out there.
Written on 1st August 2000 by TC .
You may also like