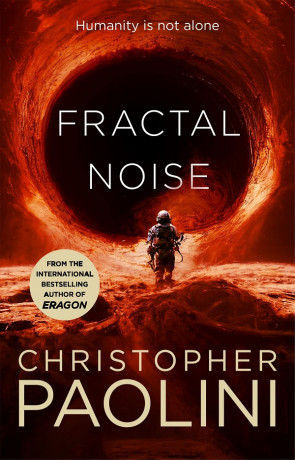 Book details
Fractal Noise

ISBN:

9781250870162

Published:

May 2023

Pages:

279

Format reviewed:

Paperback

Review date:

18/05/2023

Language:

English
Books in the series
About the author
I have never wanted to travel to space. THUD. Not only would it be physically challenging, but also mentally tough. THUD. The knowledge that the only thing between you and the infinite void is a sheet of metal. THUD. The great expanse making you question your tiny existence and the insignificant life you have led. THUD. Also, that massive hole producing a supersonic noise that must have been designed by alien hands. THUD. That would mess me up and the cast of Christopher Paolini's Fractal Noise prove it. THUD THUD THUD.
Xenobiologist Alex Crichton signed up for deep space mission for the wrong reasons. Grief sent him there to look for answers, but all he finds is a vast anomaly that produces a deep thudding tone. His skill set is geared towards alien bacteria and small animals, but is the anomaly finally proof of alien intelligence. Alex and members of the crew are sent down to investigate and they not only have to battle the elements, but also their internal demons and a dislike of one another. An onerous and metronomic THUD does not help.
There is a long tradition of deep space adventures having phycological impacts on the crew. If submariners have issue under the water, what of those in deep space? The pressure and intensity are heightened and when you are dealing with personal grief as well, feeling alone in space is not the best place to be. This is where Alex finds himself and he is going through the motions at work. The possible discovery of alien intelligence is the last thing that he needs, but in memory of his late wife, he feels the need to be on the expedition.
Once the crew members land on the surface of the planet the dangers really increase. The deep sound is so powerful that high winds rock the plains. Giant turtle like creatures also roam. The other crew members are just as dangerous. This is not the cream, but a hodgepodge of the forgotten and the dreamers. Fundamental differences in beliefs start to play a role as they get closer to the giant hole itself. Who built it and why. Many times, they should have turned back, but some feel compelled to step closer.
There is a nice mix of hard science fiction and phycological thrills in Fractal, but I would say that on balance, despite the epic space setting, this is an internal book. We see events through Alex's eyes, a man still grieving and seeing the events through that prism. Alex also witnesses those around him go through phycological breaks. This is a book about the awesomeness of space and what we may find there, but more so about how we as humans could cope with these concepts. I would recommend Fractal to hard science fiction fans who like their stories intellectual, with a phycological leaning. Through Alex and the crew, Paolini asks the reader to question themselves, what would you do?
You may also like