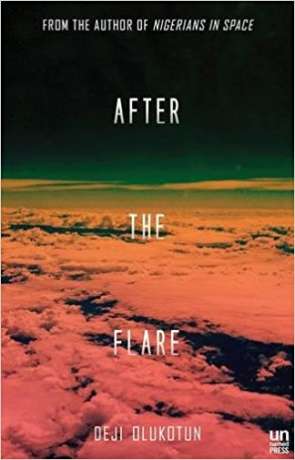 Book details
After the Flare

Author:

Deji Bryce Olukotun

Publisher:

ISBN:

978-1944700188

Published:

September 2017

Pages:

288

Format reviewed:

Paperback

Review date:

04/10/2017

Language:

English
After the Flare is the second book in the series which describes the a near future Nigerian Space program. Since a massive solar flare wiped out much of the worlds electronics, Nigeria find themselves in control of one of the last working spaceships and functional spaceport.
Kwesi Bracket, formerly of NASA's Neutral Buoyancy Lab, is welcomed onto the Nigerian space program, due in part to his experience in building Astronaut training systems. His work of building a training pool (complete with mockup space station module) is somewhat time-sensitive, with an Astronaut stuck without a working shuttle on the international space station. Of course that would be fairly straight-forward were it not for the attempted descruction of the project by Boko Haram and some strange artifacts and even stranger event happening around the base.
After the Flare is only the second novel by Olukotun but you wouldn't know it. Olukotun writes with confidence and flair, the quality of the prose is excellent and the ideas he presents even better. I loved the way he imagines near future tech with an african edge. There are gecko phones that chirp, hide, move and have some pretty advanced features. Then there are spiders that hack systems and a currency that merges the old with the new - cowrie shells that are imbued with blockchain technology.
The book imerses you in the vibrant and rich culture of Nigeria while the author weaves a complex story around this wonderful backdrop. It's clever and written with a flair, the pace is brisk and the story gripping. You begin the book thinking it's just going to be this race to save the astronaut but it isn't, that's just a part of the story. Part way through it opens up to expore the strange events that have previously just been little pockets of information, totally changing the whole dynamic.
After the Flare is clever, imaginative and vivid fiction that explores technology, how it can conflict with culture but also, if employed effectively, doesn't have to. It also explores identity, gender and of course the future of space exploration. More importantly though, After the Flare is well written, engaging and inclusive fiction, highly recommended.
Written on 4th October 2017 by Ant .
You may also like