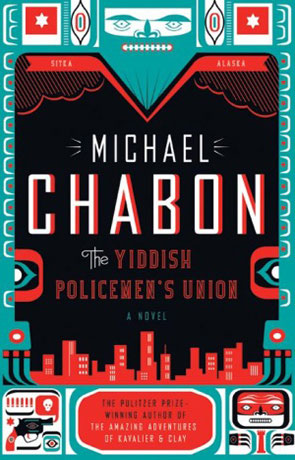 Book details
The Yiddish Policemen's Union

Publisher:

ISBN:

9780007150939

Published:

May 2007

Pages:

464

Format reviewed:

Paperback

Review date:

07/12/2012

Language:

English
Awards won
About the author
I have a sort of self imposed resolution to read all of the books that have won a Hugo award and to be honest this is the only reason I first picked up this book. I haven't read anything else by the author although I am of course aware of him, however as a more "literary" author he's not someone who I have actively seeked out to read; in hind-site I wish I'd read his work earlier.
The Yiddish Policemen's Union was released to great acclaim and has gone on to win the Hugo, Nebula, Locus and the Sidewise awards; it's a hard-boiled detective story set in a present day alternative universe that is based on the premise that during the second world war a temporary settlement for Jewish refugees was established in Sitka (A real city in Alaska) and also that the fledgling State of Israel was destroyed in 1948.
The novel is set in the expanded, Yiddish-speaking metropolis of Sitka and follows the story of the Yiddish police detective Meyer Landsman, a well respected but troubled officer who finds himself having to solve a murder a little too close to home. Landsman has given his whole life to the force, a choice that's cost him his marriage and encouraged his drinking habit.
The real strength on the novel lies in the authors natural ability to spin a good story, the prose is just a joy to read and so easy on the eyes that the pages just fly by. Totally engaging and friendly, there is an exceptional use of descriptive prose that evokes a strong emotive response in the reader, playing with words with wildly confident abandon and exuberance.
There is also a subtle humour running throughout which stops the book becoming too serious and provides an effective counterpoint to the many messages within the story.
The characters are pretty interesting and well drawn; Landsman the flawed but likable protagonist, a dogged detective who lives for his work while those surrounding characters are just as appealing and equally well written.
The story itself is quite engaging and intricate but does take a while to really get going; even when it does the plot stalls in a few places before leaping forward at speed. This slightly lurching, uneven pace does grate a little and if it wasn't for the quality of the prose it would have been a quite difficult read at times. As a result, despite the truly beautiful use of language (and at times it really is astoundingly "stop and re-read" beautiful) there is almost a sparse feeling to the actual plot.
The blend of alternative history with noir detective fiction is superb and works very well within the Yiddish community, there is just enough use of the language to lend an authentic, almost nostalgic feeling without alienating the none-yiddish speaking reader.
The Yiddish Policemen's Union is a triumph, with a mesmeric narrative and a use of grammar almost un-paralleled within the genre (or indeed in English literature) - a true gem and literary masterpiece.
Written on 7th December 2012 by Ant .
You may also like