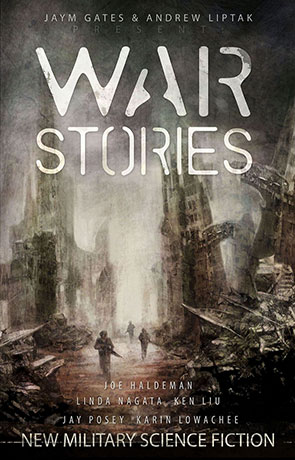 Book details
War Stories

Publisher:

ISBN:

B00O7YLMWU

Published:

July 2014

Pages:

356

Format reviewed:

Paperback

Review date:

05/11/2014

Language:

English

Age Range:

15-
When I received this anthology to review I hadn't delved into the background behind its journey to publication. It was interesting to see its crowd-sourced origins and development. There are some misconceptions people have with crowd source funded books, firstly that the quality of the writing might be lower as the author may be unknown or unsigned and therefore turning to crowd source funding to embark on a career in the field. Secondly, that the book premise may not be a good idea as it has failed to attract a publisher. The first issue is usually a matter of discernment, the second quickly scotched when a publisher realises what they may have on their hands.
And this is the case with War Stories; a bumper short story anthology dealing with all manner of science fiction warfare situations. Perhaps the publisher was always involved, I don't know. Some stories are near future, some further into the distance. As with some crowd funded projects, the book is indulgent in size, but not in terms of sacrificing quality. Instead, it is huge, packed with stories from a multitude of authors, all offering a different style and story premise to suit your taste. The author names aren't ones you instantly recognise, but by reading their work and reading about them, you instantly recognise most of them should be.
The contact and cover seem a little disconnected in their intention.  The cover suggests gritty war adventure, a Black Library style collection full of Warhammeresque plots and characters, but actually War Stories is far better than this. There is less Ernest Hemmingway then you might expect and more Erich Maria Remarque.
Some of the collection are in the best tradition of science fiction, posing questions about the human condition and making us ponder the ethical considerations of war. Perhaps this was the intention all along, to draw in a certain type of reader and send them away with something just as visceral as their usual fair, but also a lot more challenging. 
The book is divided into sections or themes denoted by a contributed piece of art. It kicks of with some memorable tales. Stories like In the Loop by Ken Liu and The Radio by Susan Jane Bigelow give the reader a real context and blend well sketched characters into well plotted tales that leave you thinking about the choices you might make in the same situations. Non Standard Deviation by Richard Dansky fires an ethical salvo back at military boffins intent on insulating us from the morality of war and perfecting a point and click culture.
The crafting of subtext is not limited to near future works. Invincible by Jay Posey hides a thoughtful story behind a catchy title and ruminates on the price of immortality through the plot vehicle of a hostage rescue. 
The anthology is at its best where it makes real world parallels and offers political comment - conflict situations that feel familiar but have moved on. The names of opposing sides changing a little like dance partners, with new slang derived from the modern colloquial, making the context relate-able and different at the same time.
There are places where the clichés still assert themselves - 'Grunts' and overly technical explanations of guns and the like, but then in part a science fiction audience is predisposed to this. At times the themes of the sections make the stories blur into each other a bit, particularly when the same technology is used in different ways. As with all writing in the genre it gets in the way when it prevents us from connecting with the context, unless that impersonality is being used to shine a light on the way we try to stay detached.
However, the length of each tale means you're only twenty minutes or so away from a different situation. In reading through, I only found one story that couldn't enjoy owing to a lack of identification. Everything else pulled me in different directions of interest as this intelligent flock of writers ruminated on the multifaceted nature of war and the human condition. War Stories is a collection of excellent works and undoubtedly an impressive tome for the bookshelf. Without its crowd source origin, I doubt it could have been as lavishly rendered and it is certainly all the better for the process. Perhaps you don't know all the names of the authors and buy the book to support one you do? If so, you'll be glad you did as its well worth it in its own right. 
You may also like