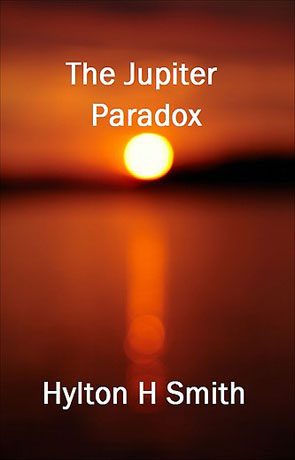 Book details
The Jupiter Paradox

Publisher:

ISBN:

B00AXZDDX8

Published:

November 2013

Pages:

266

Format reviewed:

E Book

Review date:

21/01/2014

Language:

English

Age Range:

N/A
Awards won
About the author
The year is 2175 and the Earth is a very different place with radiation from the long depleted ozone layer now reaching dangerous levels. A co-operation exists between the previously warring factions of humanity and their creation - the Cyborgs. An unexpected find on one of Jupiter's moons leads to humanity questioning it's very origins - a discovery that will eventually be known as The Jupiter Paradox.
The Jupiter Paradox is all about asking the big questions - why are we here and how did we really end up on this 3rd rock from the sun orbiting a fairly ordinary star (as stars go) on a backwater arm of a spiral galaxy. This is one of the greatest strengths of the author; the way he asks the big questions and provides ideas on exactly what could happen. These ideas are always original, always fresh and often remarkably topical. In some respects they often border on futurism and if you look at the extra-solar planets mentioned in his novels they are all now seen as contenders to hosting life and all within the "habitable zone" orbiting their star.
Along with the idea of mankind's origin we also have the robot (or Borg) uprising to deal with and the rebellion of the remaining human freedom fighters and a few Borg sympathizers forms the backbone of the story. This provides an effective commentary on the very real plight that many groups face - the oppression of weak or poor by the rich or powerful. This is of course true the world over and it's great to see it highlighted so effectively here.
This is book that you need to pay attention to; the reader isn't molly-coddled or guided along rails and it's refreshing to be treated as an intelligent adult rather than herded through gates as many authors unwittingly do. The plot is inventive and surprising in places while the pace is fairly steady through most of the novel with little exposition. By it's very nature of the "Paradox" it may be a more difficult novel to follow than some - especially for those used to having their hand held, however anyone who pays attention will be rewarded. It does border on "Hard Scifi" at times however this isn't frequent enough to exclude the casual (attentive) reader.
In many ways The Jupiter Paradox feels like classic-era science fiction, asking the big ideas and daring to imagine where those answers may lie without constraint. There are some great themes explored here, many of which are very topical and the author makes some very effective arguments.
Jupiter Paradox is a visionary journey on mankind's future with some original, thought-provoking ideas.
Written on 21st January 2014 by Ant .
You may also like