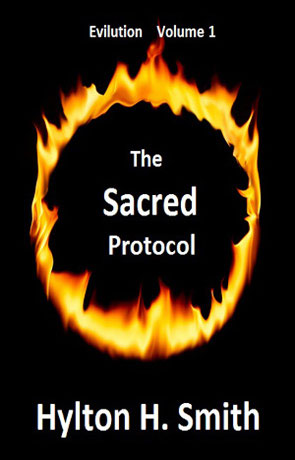 Book details
The Sacred Protocol

Series:

Evilution Series

Publisher:

ISBN:

Published:

January 2011

Pages:

256

Format reviewed:

E Book

Review date:

02/02/2011

Language:

English

Age Range:

N/A
Books in the series
About the author
The Sacred Protocol is a near future novel of an alternative history, written by Hylton H Smith.

After the Spanish Armada defeat the English fleet in 1588 the great British Empire is overthrown and Spain control most of Europe. Moving forward to 2016 and the Internet collapses causing mass chaos as Banks and Governments begin to crumble and a the world begins to slide towards a dystopia. Miraculously a new system appears that offers to replace the open insecure internet with an impregnable new system averting disaster.

Within a short space of time however, mysterious deaths of protestors against the new system warrant investigation. At first there does not seem to be much to link the cases, but when progress is achieved the fatalities take a sinister twist. It becomes a race against time to prevent global implications of unimaginable consequence.

A few years have passed since the new robust internet replacement SACRED was put in place and one of the most popular forms of entertainment is FutureWorld, a virtual reality that feels every bit as real as the world outside.

The novel is played out as a near future detective story, with the eminent sleuths Butragueno and her boss Duarte as they investigate a suicide that appears to hold a lot more secrets than would first appear. The characters are very well portrayed and easy to bond with, while we get continued snippets of information about this FutureWorld and the "real" alternate world.

For the most part this world seems very much like our own, and many of the differences are quite subtle. One major difference though is the colonisation of the moon, there are actually people living there in biosphere's and ships to and from earth appear to be much more a common occurance than what we are used to.

The technological aspects are nicely underplayed for the most part and the novel is very much character led, following the gradually unfolding plot. The detective angle works very well and allows the reader to slowly uncover the secrets behind the story, there are plenty of twists, turns and surprises along the way. The pace is quite steady and the prose well written and easy to follow, as such it doesn't take long to read.

There are some really great ideas here, and the method of setting the story in an alternative history works very well. We also get to jump in and out of this virtual world and this is handled seamlessly, while on the subject the enigmatic figure of Prometheus for me was superb, just the right amount of information drops to really wonder who (or what) the avatar really is. I also love the whole near alt future detective feel to the novel, there is a really distinctive edge to the script which, for me feels almost post-noir.

The Sacred Protocol is an original, intelligent, captivating and very well crafted novel, highly recommended.
Written on 2nd February 2011 by Ant .
You may also like