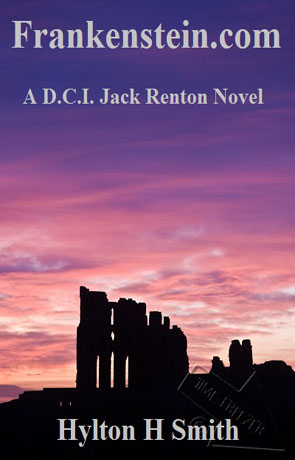 Book details
Frankenstein.com

Publisher:

ISBN:

9781480000000

Published:

August 2012

Pages:

272

Format reviewed:

E Book

Review date:

20/05/2021

Language:

English

Age Range:

N/A
About the author
Frankenstein.com follows the sleuth DCI Jack Renton who we were first introduced to earlier this year in Resident Fear. Another murderer is on the loose in the northeast of England and this time it's a much more macabre, chilling murder scene that the detectives are drawn to. A horrific picture that depicts a number of body parts from a number of different bodies all joined together in a sick parody of the human form, a modern inanimate Frankenstein's monster.
The near future murder mystery format of the previous novel joins a much darker tone that has more than a hint of the horror about it. This bleak feeling adds much to the narrative, creating a real note of tension and great sense of ambiance when mixed with the near future police procedural style. The characters of Resident Fear make a welcome return and there is an even greater sense of interplay between these detectives.
There is also a real sense of being a witness to these people's lives, a gritty and uncompromising and yet understated viewpoint that speaks volumes for all it's simplicity. I loved this everyday feel about the book, again very much in the vein of the procedural detective such as Wallander and the creations of Maj Sjöwall and Per Wahlöö but with a distinctly English voice. It really does feel like you are taking part in the real everyday lives of these characters with all their little foibles and imperfections.
The plot is inventive and immersive with a steady pace and some great little touches while the ending is pretty unique too, unexpected with a sense of realism and yet dramatic in it's own way.
It's a stroke of genius adding the darker tone to an already rich, understated voice and it really does work very well, with some visually acute scenes amongst the no-nonesense prose. I could quite imagine this book being turned into a British series, it's got that edge to it, that distinctly British feeling that you just don't find anywhere else and something that makes British crime drama's so special (despite the lack of budget).
Frankenstein.com hits all the right notes, it's bleak without being depressing, stylish without being vacuous and dramatic without being too graphic with an ending that really does set it apart, a must for any fan of crime drama.
Written on 20th May 2021 by Ant .
You may also like