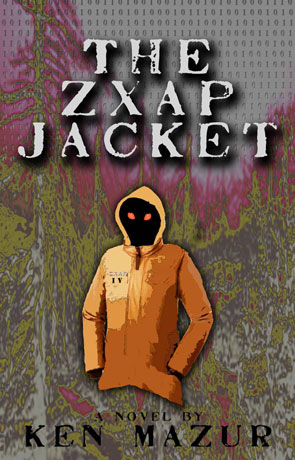 Book details
The Zxap Jacket

Publisher:

ISBN:

9780988956315

Published:

March 2013

Pages:

252

Format reviewed:

Paperback

Review date:

15/11/2013

Language:

English

Age Range:

N/A
2047 in New York and the future imagined in Zxap Jacket is a grim one; acid snow falls with abandon on the dirty streets and those without a Zxap Jacket suffer stinging eyes and burned skin. As is commonly prevailent within the early 21st Century, it isn't long before private enterprise looks at the marketing opportunity such an environmental disaster provides and Maxwell Zxap was the winner of that race.
Zxap jackets come in many different styles and models - tailored to the audience, from the young street-wise kids covered with graffiti to the sophisticated models for the rich with heating, communication, shoulder lights and even full entertainment packages.
NYPD officer Joe Zinski has an intense dislike of anything Zxap related, from the jackets to the company owner Maxwell and his Empire. Joe knows that the Jackets and their manufacturers are responsible for his partners untimely demise, killed in shootout with a Zxap Jacket wearing gang called ODDS and he's determined not to let this death go unpunished.
Zxap Jacket is written by Ken Mazur, someone who is something of a legend in the music scene. He's worked on over 50 albums with artists including Robert Palmer, Tina Turner, the O Jays and Kid Creole. His talents can also be heard on music for TV shows such as "Behind the Music", "Biker Build Off" and currently "Travelscope".
As you can imagine this experience provides a unique voice when putting pen to paper - there is a powerful energy about the prose, a lively and positive vibe. This is combined with a dystopian, hardboiled gumshoe detective style with hints of cyberpunk that works well with the offbeat humour and dynamic story. The overall feel is something quite special and is perfectly suited to the acid rain soaked streets of future New York.
I loved the post-human edge, the imaginative use of technology proves very effective and draws the reader in while the fast pace manages to keep attention from waning. There are loads of ideas packed within the book, almost a few too many - most of them work pretty well however.
Zxap Jacket is an accomplished story, it's got bags of energy, a twisting plot and a rich imagined future - overall a great book that hits all the right notes.
Written on 15th November 2013 by Ant .
You may also like