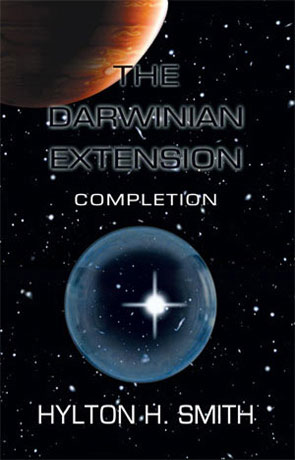 Book details
The Darwinian Extension: Completion

Series:

The Darwinian Extension

Publisher:

ISBN:

Published:

March 2010

Pages:

264

Format reviewed:

Paperback

Review date:

25/03/2010

Language:

English

Age Range:

N/A
Books in the series
About the author
The Darwinian Extension: Completion is the third volume in the The Darwinian Extension trilogy, written by Hylton H Smith.

Over twenty years have passed since the Red planet was first colonised and contact was made with an alien intelligence. Much has changed in this time, Mars now has a thin, breathable atmosphere and has warmed considerably - while the colony now exceeds 50 000 inhabitants, with the different species finding compatibility with one another. Earth relations are still fractious however and a renegade nation on earth are determined to have a nuclear presence and threaten to upset this fragile balance.

The efforts to build an interstellar propulsion system reach a breakthrough, which puts this fragile stability in severe danger, while some among the Martian population prepare themselves for physiological modification in preparation for intersellar flight. The medical procedures and breakthroughs are truly outstanding but are the cause for much more friction and heated debate.

The Darwinian Extension: Completion is, like it's predecessors, a "hard" science fiction novel, vast in scope and intelligent in design, the science behind the novel (and the series) is described in great detail and includes some very well thought out ideas of how humanity may develop in the next 50 years or so. To coin a phrase from the great writer Philip K Dick, much of this just as much "futurism" as it is science fiction.

There are some really great ideas here, from the way Mars becomes colonised and terraformed, to the idea of interstellar travel using "Quantum Space Distortion". This book is also a little easier to read than those previously (not that those previous were difficult), partly due to the previous novels great explanations. The characterisations are also spot on, with both new and old faces alike.

Hylton H Smith has managed to create a rewarding finale to an epic series with The Darwinian Extension: Completion, if you love real "science fiction" or are interested in "futurism" then look no futher than this series, which manages to raise some very interesting scientific questions and ideas. Intelligent, well written and rewarding.
Written on 25th March 2010 by Ant .
You may also like