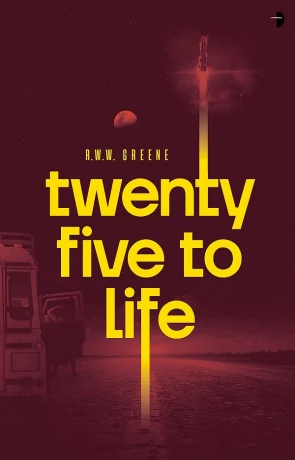 Book details
Twenty Five to Life

Publisher:

Angry Robot

ISBN:

9780857669209

Published:

September 2021

Pages:

318

Format reviewed:

Paperback

Review date:

03/09/2021

Language:

English
About the author
Dystopian fiction has been becoming increasingly popular in recent years, probably because many of us can see the tell-tale signs of it coming along the tracks in real life. This is a depressing thought, but one worth exploring. How will humans continue to survive on a planet they are poisoning? Some of us may get to live on the moon, others blasted into space in the hopes of developing new colonies on far away worlds, but what about those left behind? Twenty-Five to Life by R.W.W. Greene does not concentrate on the dying, instead it looks to how we keep living, and loving, no matter the circumstances.
Julie is luckier than most. Her mother is a News Anchor, and their position is a privileged one. Julie has access to training modules and can visit with real people in the real world, rather than having to spend all her time in the VR world of Third Eye. At 25 she will have reached adulthood and her mother already have plans for her, namely a faceless cube in one of the huge complexes that the government has been placing the disenfranchised. However, Julie has other thoughts and sets out to join the Volksgeist, the name given to the transient people who roam the old roads of America.
For such a potentially depressingly subject matter, Twenty-Five is an uplifting book. This is because it centres on the characters and how they cope and not the dying world around them. Greene does give the reader plenty to ponder about how the world has changed, it is a recognisable version of our own where climate change has damaged the planet beyond its ability to house human life, but we are also given hope. It may not be what you expect. The world in unlikely going to get better, but there are options to keep living, even in a bleak a world as this.
It is this sense of living that separates the Volksgeist from the average person. Most people have chosen to turn their backs of reality and instead plug themselves into the Third Eye with the help of the government. These people will slowly waste away in their cubes enjoying fake entertainment at a cost the government can afford. It is the tramps who are the freest. They choose to breath the polluted air and risk a life on the road, just so they can keep living life.
We follow Julie on this journey as she evolves from privileged rich girl into a member of the Volksgeist. Early in her voyage of discovery she comes across Ranger, a veteran of the road who takes Julie under her rule. The two of them set of on a road trip that is full of incidents and self-discovery. Their relationship feels effortless and makes this a very readable book that skips along like a wheel on smooth asphalt.
There are moments of horror that remind the reader that this is dystopian fiction, but despite all the death it still feels worth it so that the likes of Julie and Ranger can live for real. Greene paints a realistic world through the narrative, the reader is not spoon fed what is happening around the characters, but we instead we live it with them. Julie makes the perfect protagonist for this as she herself is new to most of it. You finish the book feeling uplifted, which is not often the case in the genre. There is a strange sense of hope that runs throughout the book, if there are relationships to be had, humanity can exist in some sense.
You may also like