Radio Life
By Derek B Miller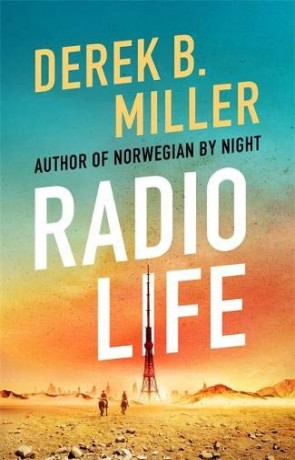 Book details
Radio Life

Publisher:

ISBN:

9781529408584

Published:

January 2021

Pages:

496

Format reviewed:

Paperback

Review date:

21/01/2021

Language:

English
What do we expect from the future? I consider myself a half glass full type of person, but even my positivity has taken a battering in the past few years. A world buried under a sea of sand sounds like it may be better in some circumstances. If we do find ourselves roaming a desolate future what will our relationship be to the past? Do we ignore it in fear of making the same mistakes that led to this apocalypse or do we embrace it in the hopes of doing better? This is the question that runs through Radio Life by Derek B. Miller. Who is right, The Keepers or The Commonwealth?
300 hundred years into the future, life is hard for the few of our descendants who survived. They live in a world where knowledge is lost and the Earth itself is poisoned. The Commonwealth live better than most within the walls of an abandoned Stadium. Unbeknownst to the outside world they have some electricity and are gathering knowledge from the past. This puts them at odds with The Keepers, an increasingly large group of people who fear the past. The two opposing sides look set for war, but is there any way to stop it?
I enjoy a Near Future science fiction novel as they are an excellent way of exploring our present. It is up to the author to determine how linked the future is to the past and in Radio Life Miller weaves a wonderful web. Rather than just hinting that this is a future Earth, the book embraces it. The fundamental elements of the book rely on how people treat Earth's past treasures – with reverence or fear.
The members of The Commonwealth believe that knowledge is power and are building up an archive of information. Their cataloguing system is based on one of the few educational tools they have found – a copy of Trivial Pursuit. This may sound amusing, but their society works as different people explore the different subject matters. Miller has created a group of people who don't quite grasp what they have, or what they are doing. They use phrases that make little sense to them e.g., cat got your tongue, but they don't know what a cat is. As a reader it is fun trying to pick up the thread of what the characters are trying to say and how they are misinterpreting the past.
The Keepers are a more mysterious and less developed clan. They believe that knowledge of the past should remain hidden to avoid another disaster. One of the main thrusts of the book is the rising tensions between the two groups. This alone makes for an interesting story. Too opposing viewpoints, both right in some areas, but neither willing to give into the other.
What makes Radio Life stand out further still is that Miller is not willing to just write a book about a post-apocalypse war, instead he also develops the relationship the characters have with the past. The main protagonists include a family of skilled roamers and an intelligent engineer. Events develop so that a new trove of information is tantalisingly close. There are brilliant moments in the book when the post-industrial characters of the book can interact with technology that even we, as citizens of 2021, would marvel at. By doing this Miller can tell a story set 300 years in the future, but also the story of how that world came to be.
For a book that has characters roaming a sickening world there is a sense of hope. Readers need not fear that the subject matter is too dark. There are certainly poignant moments and tension, but you will leave the book feeling lighter. Radio Life poses questions about what humanity should be and will prompt some of you to do the same. As a glass half full person, I would like to think that even in a world of darkness, there are some people looking to bring the light. A highly engaging Near Future novel that is very enjoyable to read but will also have you thinking.
You may also like