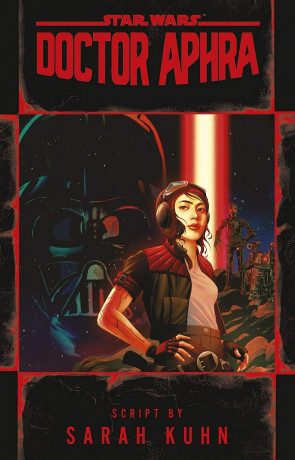 Book details
Doctor Aphra

Series:

Star Wars

Publisher:

ISBN:

9781529101867

Published:

April 2021

Pages:

304

Format reviewed:

Hardback

Review date:

07/04/2021

Language:

English
Books in the series
Star Wars Essential Readers Companion
Survivor's Quest
Victorys Price
When an intellectual property becomes huge it can go one of two ways, a homogeneous blob of the same stories on repeat, or a vibrant universe full of different adventures. Star Wars was already massive, but recently has branched out even wider. This included a reset of the tie in novels and rather than just concentrate on the Skywalker family, the opportunity has been taken to experiment within the Star Wars lore. Doctor Aphra by Sarah Kuhn is an audio adventure, and this is the script. If the written version is anything to go by, the audio play must be hilarious and shows that Star Wars is a vibrant IP and can also do great comedy.
Doctor Aphra is the self-proclaimed greatest adventurer and archaeologist that the galaxy has ever seen. Her specialty is ancient technology left to fade away. With her inbuilt sense of machinery, she can bring old technology back to life. Unfortunately, a lot of this tech was left to die for a reason. You see, as well as being an adventurer, Aphra lacks a moral compass. So, when Lord Darth Vader hires her, rather than running and hiding like most sane people would, the good Doctor grasps the opportunity with both hands. What a silly thing to do.
Any fan of Star Wars will be aware that the Universe is a vast one and covers much more than the core films and even the spin offs. There are stories that can be set in a distinct timelines away from the Skywalkers, or tales that live in between the cracks. Doctor Aphra is the perfect example of this as it is set around the time of The Empire Strikes Back and can comment on the events in a comedic manner. After the destruction of the first Death Star, Vader is out of the Emperor's good books and is consolidating power elsewhere. Here enters Doctor Aphra who is willing to undertake a few dangerous missions to help the Dark Lord.
The key to Doctor Aphra's success is how fun the characters are. Many of the main character are, for a use of a better word, a bit evil. Aphra's main allies are two human hating droids, and her closest acquaintance is a Wookie who enjoys partaking in pit fights just so that he can rip limbs off. Even Aphra has few redeeming qualities, but the one that she does have is a big one – charm. This character is so charming that you cannot help but enjoy her presence even when she is enabling torture or the destruction of a rebel base.
Aphra has no issue with working for the Empire. She does not consider herself part of their team, but as a contract player. Darth Vader is not an ally, but someone to use to get to the better, more destructive technology. Her lack of empathy is infectious, and she is even able to cut a few well-known Star Wars characters down to size with her sharp wit. Through the book there are flashback scenes that flesh out why Aphra became more comfortable with machines than sentient beings, but rather than making this a redemption story, Kuhn keeps the character of Aphra true to herself – deliciously selfish.
As an adaptation from audio play onto paper, there is a fear that something could be lost in translation, but the opposite happened. The book takes the form of Aphra's audio diary and this works on paper just as well. Seeing events from Aphra's distorted point of view is glorious and you even get to see where she meant to delete or remove sections later but forgot. The script plays with location and soundscape as Aphra alters the story to suit her telling. The very nature of how the story is told and unfolds is all part of Aphra's character, her personality and the narrative are intertwined.
Throughout Doctor Aphra, Kuhn weaves the story in the grey areas between the films. Aphra may not be someone we heard of in the cinema, but you can imagine that she was a thorn the in the side of the likes of Princess Leia. The book is intelligent and funny. It pokes fun at some sacred Star Wars institutions but does so with a charm and lightness of touch. It is a perfect read for fans of the Universe as it uses the same colours but uses comedic brushes to paint with. It is wonderful to read distinct types of sub-genres within Star Wars and long may it continue. I for one will look out for other Doctor Aphra adventures. If she survived that is.
You may also like