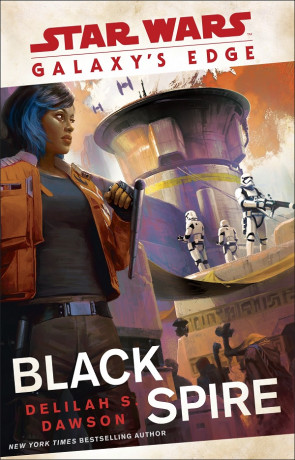 Book details
Galaxy's Edge: Black Spire

Author:

Delilah S. Dawson

Series:

Star Wars

Publisher:

Century

ISBN:

978-1780899909

Published:

August 2019

Pages:

374

Format reviewed:

Hardback

Review date:

23/09/2019

Language:

English
Books in the series
Star Wars Essential Readers Companion
Survivor's Quest
Victorys Price
To the uninitiated, Star Wars is just a film. To everyone else, that is just nonsense. There are multiple films, games, books, toys, teddies and now a theme park. A small part of the Star War Universe resides in Disneyland. You can visit the outpost of Black Spire and experience what it is like to be thrown out of a Cantina or sold for scrap metal to a Jawa. But what is Black Spire? Basing a book on a theme park ride sounds outlandish, but faster than you can say "Pirates of the Caribbean', Star Wars: Galaxy's Edge – Black Spire was born.
With the rebel stronghold destroyed, General Leia needs new places to build the resistance. The remote smuggling retreat of Black Spire seems an ideal location as there is nothing of worth there for the New Order. With so few personnel left, Vi Moradi is not the best candidate to create a new rebel base, but that is all they have. Traumatised after being tortured, Vi must embark on what should be a routine mission, but soon turns out to be far trickier when the residents of Black Spire are less than accommodating.
Star Wars is a fictional Universe like no other as it fills that Universe with more characters and places than almost any other property (Star Trek says hello). A pitfall for any author writing within Star Wars is that they think too big; too many characters, too much action, any amount of Jar Jar. Delilah S. Dawson does not suffer from this and instead has produced in Black Spire one of the most intimate stories that the newly rebooted Star Wars books have seen.
Rather than starting with multiple characters, the action begins on Vi. As the book progresses, she is joined by others and her solo mission becomes that of a team. It is only here that we learn more about her ragtag bunch of allies from the ex-New Order Captain to the diminutive engineer. By slowly building the characters, Dawson draws the reader in organically, making the book easy to read. It is also a great way of building the repour between the characters and the relationship the reader has with them. By the finale, you really come to care about all the rebels and want them to survive.
The other star of Black Spire is the outpost itself. It sounds like madness to base a book on a piece of theme park, but this is not just any theme park. Disney have recreated a slice of Star Wars that you can walk through and Dawson has been tasked with fleshing out the place even more. She does a wonderful job of giving Black Spire vibrancy and colour. The side characters in the book frequent and own the places that you can visit. The best compliment you can give Dawson is that the book easily stands up on its own should you know nothing about Black Spire. However, if you are planning to go, then this book should be required reading as it will bring to life far more and give emotional attachment to the locations.
Dawson may have been forced to concentrate her novel around the outpost of Black Spire to promote the theme park, I don't know. If that is the case, it was a blessing as it focuses the book wonderfully. Rather than flying off around the Star Wars Universe we instead get to read a settled book about mostly new characters. The familiar is there in the tempo and species of Star Wars, but the location and story are unique to this book.
There is real emotional pull between the various rebel characters and this heightens the tension. Balancing out any laser fire are moments of downtime where Dawson explores this new world. I found both elements equally enjoyable. Just being in a Cantina is wonderful when someone as apt as Dawson is writing about it. I hope to one day visit the location that this book is set in, but if I cannot have that, I at least look forward to reading more in the series. If the finale has anything to go by, I will not be disappointed.
Written on 23rd September 2019 by Sam Tyler .
You may also like