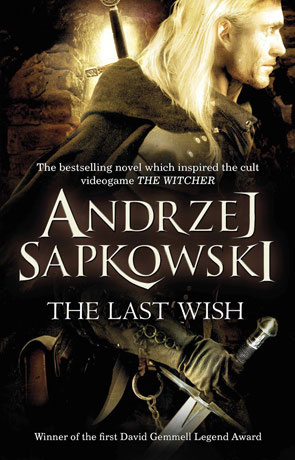 Book details
The Last Wish

Series:

Witcher Saga

Publisher:

ISBN:

9780575077829

Published:

June 2007

Pages:

280

Format reviewed:

Paperback

Review date:

16/04/2012

Language:

English

Age Range:

N/A
Books in the series
About the author
The Last Wish is the first of two short story collections that precede the main Witcher Saga, written by the polish author Andrzej Sapkowski.

The majority of the stories that make up this novel were originally published in the Polish science fiction magazine Fantastyka which have been intertwined with a few new ones and seen as a series of flashbacks, told as the principal hero recovers from injuries.

For anyone not already familiar with the Witcher series, it charts the journey of Geralt of Rivia who as a "Witcher" travels the country fighting monsters, having been modified like all Witchers at an early age with supernatural abilities and powers. I haven't previously read any of the authors works or seen the film, tv series or even played the video games (although I have heard of them) and so I approach this book from a fresh perspective. I do understand however that many who do read this book will already be fans of the series and I really don't think you will be dissapointed.

The world in which Geralt inhabits is very well drawn, detailed and rich, full of strange monsters and even stranger people, many of which appear to have been drawn from folklore, myth, history and fairy tales. As it's essentially a collection of short stories the novel feels almost like an adult version of a Brothers Grimm collection, there is the same sense of dark wonderment and each story contains it's own little message.

The author does a great job of painting the people (and monsters) in shades of grey and humanising those that people would otherwise think of as evil. This includes a running theme of not judging by appearances with some of the most foul looking creatures having hearts of gold while the most beautiful rotten and evil to the core. There is also a subtle humour running through the book and a wonderfully dark energy which when combined by rich dialogue and talented prose gives the novel a pretty unique voice.

I think the idea of combining these short stories into one novel works well, it's a great introduction to the series and the character of Geralt, I loved how it feels like a book of adult fairy tales. It's also a nice break from all the novels that have one central plot, you can put the book down after a chapter and not have to worry about keeping all the details running in your head. The translation is superb - as far as I can tell (not having read the original Polish), it manages to capture the nuance of language and the dark, ironic humour.

I really enjoyed this journey with Geralt, Sapkowski has a confident and rich voice which permeats the prose and remains post translation. I'd recommend this to any fan of Heroic or Dark fiction.
Written on 16th April 2012 by Ant .
You may also like