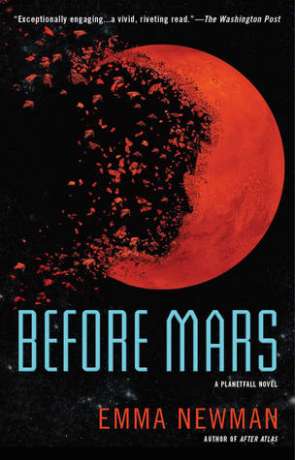 Book details
Before Mars

Publisher:

ISBN:

978-0399587320

Published:

April 2018

Pages:

352

Format reviewed:

Paperback

Review date:

07/09/2018

Language:

English
About the author
Before Mars is the third book set within the authors Planetfall Universe. As the name suggests it's actually set before the events of Planetfall and After Atlas.
After months of travel, Anna Kubrin finally arrives on the Red Planet to begin her job as geologist and in-residence artist. She already misses her husband and child - with a whole year ahead before any chance of going home.
Her arrival has clearly been anticipated and it isn't long before she finds a note in her new room. The only problem is the note has been written in her own handwriting and warns her against trusting the colony psychologist. It's a note she has no memory of writing.
Not long after this she finds a footprint in the dust out past the colony shelters, a place that the AI claims has never been visited.
Those who have read Newman's other Planetfall novels will know that the world that Anna lives in is one that can be difficult to seperate fact from fiction. Immersive, hyper-realistic virtual reality exists - something that can be used to create an implanted, false memories which would be indistinguishable from the real thing.
Even without this detail it's not clear how Anna manages to find a note written to herself in her own hand-writing. This event early on in the book sets the tone of paranoia, claustrophobia and anxiety, heightened by being on a remote base with just thin walls between life and death. The depiction of Anna's mental health as she deals with these mysteries and her own life she's left behind on earth is quite powerful. It's deeply personal, going through her relationship with her husband to dealing with new motherhood and postpartum depression.
The future presented in this book is one that seems a natural progression to an increasingly capitalist society - corporations and mostly replaced government and people can be slaves in all but name. Housing is assigned depending on that persons pay grade while married people get better treatment (as they are considered more predictable). Some of this isn't that far from current reality and a worrying thought for the future. The author also describes some interesting future technology, the biggest of which is the immersive virtual-reality which you can use to immerse yourself in digital recordings of your own memories. Too much of this technology can induce something known as "immersion psychosis" - which is highlighted as another possible cause of Anna's condition.
Before Mars is raw and uncomprimising, a clever and compelling journey that raises some important subjects into the light. It isn't the easiest of books to read, there is a lot of serious subject matter - but it is a gripping, thoughtful journey that keeps the reader on their toes and rewards those who give it the attention it deserves. 
Written on 7th September 2018 by Ant .
You may also like