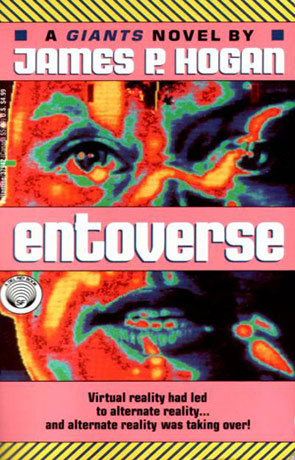 Book details
Entoverse

Publisher:

ISBN:

Published:

October 1992

Pages:

416

Format reviewed:

Paperback

Review date:

02/07/1999

Language:

English

Age Range:

N/A
About the author
Entoverse is the fourth novel in the Giants series, written by James P Hogan.

Having just finished The Giants Novels I thought my self lucky when I found the fourth (and for now final) giant novel Entoverse at my local book dealer. I had read a bit about it on the net and my expectations for it wheren't all that high, but it is a Hogan book and it is the fourth book in his amazing Giants Novels series. It had to be better than most.

Not. Let me put it in as bluntly as possible: this is by far the worst thing that I've ever read by Hogan. The premises are okay; Vic Hunt (from the first three books) goes to Jevlen to help the Ganymeans understanding the Jevlenese and possibly find out what's wrong with them, on the surface it's quite obvious that most of them are Virtual Reality junkies suffering from severe withdrawal symptoms after the shut-down of their computer JEVEX. But why are some of them changing their behaviour patterns so much and what's with all the religious fanatics?

Could be interesting, but the book is so stale! I had a really hard time dragging my self all the way through it and the places where it grabbed my curiosity can be counted on one hand. For the first two hundred and fifty pages (of four hundred) nearly nothing happens and I had to drag my self through them in the hope that something interesting would happen and the book would pick up speed. It does pick up a little, but it's all to very late and to very little.
Written on 2nd July 1999 by TC .
You may also like