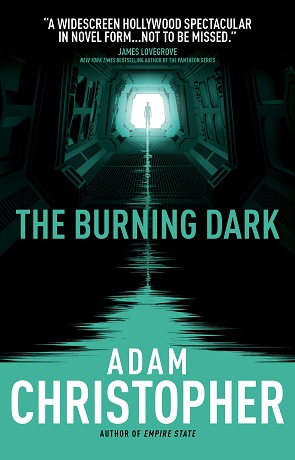 Book details
The Burning Dark

Publisher:

ISBN:

978-1783292011

Published:

March 2014

Pages:

336

Format reviewed:

Paperback

Review date:

16/06/2014

Language:

English

Age Range:

15-
About the author
Before his early retirement Captain Abraham Idaho Cleveland (Ida) has one last duty to perform, overseeing the decommissioning of a partly deserted research post which orbits a toxic star right on the edge of Fleetspace.
When Ida arrives on board the U-Star Coast City he finds the station missing the commandant, problems with communication and a hostile crew who seem haunted by whispers in the many shadows the minimal lighting casts.
Largely isolated from the other crew members he becomes paranoid and withdrawn, combating such thoughts by reaching out into the universe at large with a self-built old fashioned space radio. It isn't long before he finds another soul, a woman's voice that seems to be echoing across a thouasand light-years of Space.
From the delights of Empire State and Seven Wonders its already clear that Adam Christopher is a gifted author. With the Burning Dark he also proves how versatile he is too. In many ways this novel feels like a classic science fiction story from the 20th century. As with those stories in the "golden age" of science fiction it isn't afraid to offer something different.
In The Burning Dark this difference manifests as a dark and somewhat disturbing tale that has an almost tangiable quality to the horror elements. This extends to a claustrophobic feeling and chilling sense of the sureal, not to mention a feeling of impending doom and despair. It also has a cinematic quality in places, strengthened by a fast pace, tight dialogue and descriptive narrative.
The Burning Dark is a clever novel, not only with compelling, well-written prose that sucks you in from the start but with an intricacy that borders on magnificient. It also highlights the author that Adam Christopher is fast becoming, providing a greater maturity; not to mention an epic ending that matches the tone of the book perfectly.
A scifi creepy mystery horror story that my just give you the shivers.
Written on 16th June 2014 by Ant .
You may also like