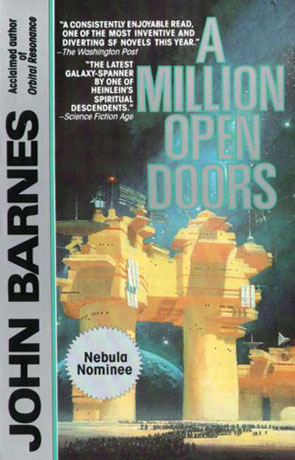 Book details
A Million Open Doors

Series:

Thousand Cultures Series

Publisher:

ISBN:

Published:

1992

Pages:

304

Format reviewed:

Paperback

Review date:

01/04/2000

Language:

English

Age Range:

N/A
Books in the series
About the author
A Million Open Doors is the first volume in the Thousand Cultures series by the author John Barnes.

When I started on this I was quite surprised; Barnes starts the story off in a tavern, with tales of sword fights and honour. Afraid that Barnes had hidden a fantasy behind the rather futuristic cover, I read on and soon discovered that Barnes was just building a background world for the main character Giraut. Giraut's home planet is one of the early colonies that, with the help of new instant travel technology, has been reconnected to the main human culture after a long time on its own. Giraut's planet (called Nou Occitan) is struggling to find its place in the new universal culture brought on by the new "Springer" technology. It doesn't get any easier for Giraut when he get the job as cultural ambassador to another newly rediscovered planet (Nansen) where things are very different from Nou Occitan.

Barnes writes as beautifully as ever and both Giraut and the cultures of Nou Occitan and Nansen are very well rounded and described. While Giraut may seem like a moron to begin with, he soon gains depth and more likeable characteristics. Nou Occitan and Nansen are very different cultures and worlds (both psychologically and physically) and Barnes uses this to show off the strengths, weaknesses and follies of both systems. The backwardness of Nansen, makes some of the points come through a bit heavy-handed in places, but it's never so bad that it makes for bad reading. Entertaining, funny and touching.
Written on 1st April 2000 by TC .
You may also like