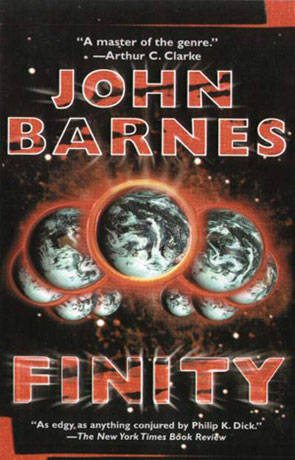 Book details
Finity

Publisher:

ISBN:

Published:

1999

Pages:

303

Format reviewed:

Paperback

Review date:

01/03/2000

Language:

English

Age Range:

N/A
About the author
Finity is a science fiction novel by the author John Barnes.

The writing of a Science Fiction story that takes place in an infinite-multiple-universe setting often runs into the basic problem of stopping the main character from just finding the best possible universe and then staying there. Once removing the problem by quibbling about what "best" means doesn't remove the problem or solve it. Hand waving limits on how often, fast or far universes can be changed, can seem artificial if not downright silly. Inventing extreme physics and machines to match and then putting a limit on it seldom work. You either have a very limited ability to shift universe (do it a couple of times and run out of "gas" – no gas stations in the new universes) or unlimited ability (do it a couple of times and find a virtually unlimited power supply – no gas station needed). Besides this multiple-universe travelling has some of the same problems as time travel (most of them related to the infinity part of it). Anyway…

As you might have guessed Finity is Barnes crack at a multiple universe story and Barnes manages not only to stay clear of most of the pitfalls of this sub-genre, he actually manages to use one of these pitfalls as a major plot twist. Bringing back some of that fantastic weirdness from Kaleidoscope Century, Barnes tells a very modern parallel universe story by literally taking the story to a quantum level.

The main character Lyle is just about the only thing that stays the same throughout this book as Barnes throws Lyle from world to world and reality to reality. His girlfriend goes from quiet stay-at-home-girl to mercenary hard-ass. His world and past changes beyond recognition and understanding. The only thing that stays the same is his strange employer Geoffrey Iphwin and the fact that the United States of America seems to have vanished from the face of the earth. And an even weirder thing is that nobody seem to care (well, maybe that's not that weird).

Sharp, darkly funny and ever surprising.
Written on 1st March 2000 by TC .
You may also like