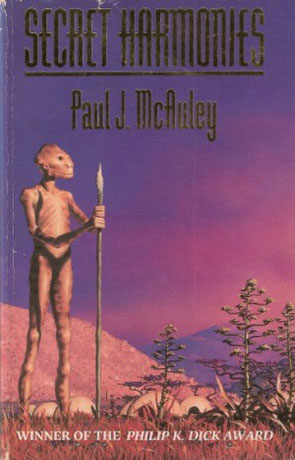 Book details
Secret Harmonies

Publisher:

ISBN:

9780575603721

Published:

November 1989

Pages:

336

Format reviewed:

Paperback

Review date:

31/12/2011

Language:

English
About the author
I first read this book about 20 years ago, one that I picked up at random having not heard anything about the author in the slightest, it become one of the most memorable books I have read before or since and this will be the third or fourth time I have read it.

Ironically it's still the only novel I have read by Paul McAuley although I have collected a number of his books recently. As I have also just received his brand new novel by the good people at Gollancz (watch out for the review in mid-january) I thought it only right I re-read this first and re-aquaint myself with the first ever british author to receive the distinguished Philip K Dick award.

The book is actually the second in a series that began with the author's first ever published novel "Four Hundred Billion Stars" - which went on to win the Philip K dick award in 1989 - and tells the story of the human colonisation of the paradise planet Elysium which at this point in the story leads to confrontation between the descendants of the first colonists and a new wave of settlers from earth. Set a few hundred years after the events of "Four Hundred Billion Stars" the novel doesn't share any characters and can quite easily be read as a stand alone novel (which of course I have).

Secret Harmonies explores this new colonised world with some real alien aliens, featuring an intricate plot and providing a window into how humanity could possibly fare so many light years from home with no control or assistance from their home planet. The narrative is split between the perspectives of city dweller and University teacher Richard Florey and the "dingo" Miguel Lucas and it's these two diseparate ideologies that become the focus of the story. These two sides of a vast cultural divide are handled with a great deal of intelligence and thoughtfulness with no absolutes or even judgements cast which leaves the reader to judge for themselves.

I love how the author manages to create these enigmatic "aborigines", building a real mystique and creating a great alien feeling about them and describing them in vivid detail. There are also many parallels between the planet Elysium and Australia, something that isn't even hidden with terms such as "dingo" and "walkabout" being used to colour the prose. It was these ideas that attracted me to the book all those years ago and the author does a great job of bringing this otherworldly culture to life - even though they aren't the main story elements.

For me Secret Harmonies still feels like an exceptional novel, the characterisation is spot on, the dialogue crisp and the voice clear. There is a beautifully understated sense of the grand that really draws you into this extra solar colonisation.

Classic science fiction at it's very best.
Written on 31st December 2011 by Ant .
You may also like