Beyond the Burn Line
By Paul McAuley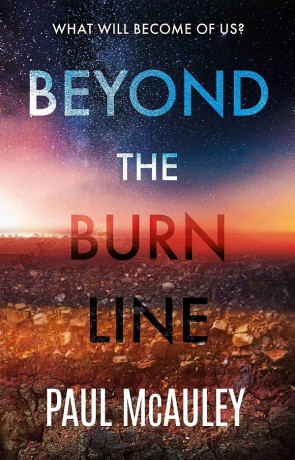 Book details
Beyond the Burn Line

ISBN:

9781399603737

Published:

September 2022

Pages:

398

Format reviewed:

Hardback

Review date:

26/09/2022

Language:

English
About the author
Science fiction is a brilliant tool for pondering what happens after the inevitable fall of humans. There is only so long that the Earth can sustain us, but that does not mean that other civilisations may not develop after. Beyond the Burn Line by Paul McAuley is a Sci Fi mystery told from the perspective of those that developed many years in the future. When a mysterious map is uncovered, it appears that beings from the stars may have been visiting for centuries. Could these beings be the humans that were wiped out so long ago?
Tens of thousands of years after the fall of man, and after the fall of the Bear civilisation, Mother Earth is now populated by the once slaves of the Bears. These peaceful people believe in discussing their problems, before considering conflict. When Pilgrim Saltmire's master dies he is thrown out of academia, but Pilgrim swears that he will finish his masters last work – a study on the rumoured visitors. Pilgrim's research will have a knock-on effect, not only on his civilisation, but on other civilisations to.
Burn Line is intelligent science fiction that is hard to explain as the entire book is a mystery. You will have to read the entire thing to begin to understand. The reader is introduced early to Pilgrim and the world be inhabits. These are not humans, but creatures about half our size and furry. They have only recently discovered the concept of evolution and have never fully explored the antient ruins that populate the remote parts of their world.
Pilgrim is a fascinating character. A scholar, he is a gentle soul. This is Sci Fi, but the devolved nature of the technology makes Pilgrim's choices feel more like fantasy. To have the scholar as the main character is not usual and I found it refreshing. Pilgrim sees the best in people but is also very stubborn. He finds himself pushed from pillar to post, but always remains focussed on his master's last work.
As the book develops, so does the mystery. An old map is discovered that appears to show visitors from space visiting the previous civilisation of the Bears. If the map is real, it would change Pilgrim's people's place in the Universe. Part one of the book is about finding this map and Pilgrim's journey to discover if it is genuine. It has a classic quest feel to it and McAuley builds the world wonderfully as the story unfolds.
And then things change. The book takes a sharp turn and a whole new scenario is placed in front of the reader. It is all linked to Pilgrim's story, but it is also something new and progresses the main threads of the story far quicker. I found the about turn jarring, but after a few pages you are back into McAuley confident writing style. It is a joy to get something that feels like two stories in one, telling the same whole.
Burn Line is an enigmatic tale that makes the reader work for information. As you progress the scales fall from your eyes, enriching even further what came before. This is the type of book that you could start again once finished and read in a whole new light. There are plenty of clues and hints dotted throughout and McAuley does a masterful job of hiding them in plain sight. Intelligent and fun, Burn Line is great science fiction with a wonderful main character.
Written on 26th September 2022 by Sam Tyler .
You may also like