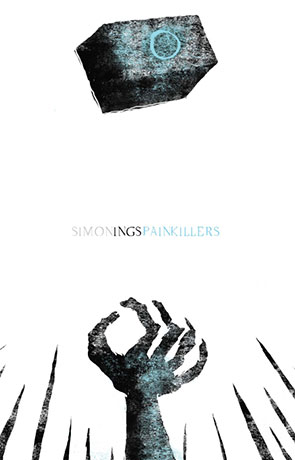 Book details
Painkillers

Publisher:

ISBN:

978-0575131392

Published:

May 2014

Pages:

304

Format reviewed:

Paperback

Review date:

16/10/2014

Language:

English

Age Range:

18-
About the author
Painkillers is a thought provoking read. I completed it in less than three days, which is something I haven't done with a book for nearly fifteen years. During that time, I tried to work out what was keeping me absorbed as it is a very atypical Science Fiction novel, but perhaps that's it. There is something sober and mature about it, adult and uncompromising in content, without being indulgently explicit as that in turn would detract from its central theme which is serious and thought provoking in a way you don't expect from books in this genre. Instead of looking up into the stars, our eyes turn toward a subject much closer to home.
After an opening that slaps you right in the face with its central conceit, the story unfolds in brisk first person narration. Adam Wyatt, the central character explains to us his flawed world, flawed by choices he made for noble reasons. As we encounter each, we can appreciate why he did what he did, but are never railroaded into accepting everything. Ings never patronises with the character choices and leaves the plot levers open for us to judge. Wyatt worked for a police corruption unit, looking into companies in Hong Kong. Now in England, his past quickly catches up with him and he finds himself caught up in a further web of intrigue in an effort to extricate himself.
For the most part, Painkillers is less science fiction and more fiction as a story and perhaps the more absorbing for it. By turning the invention of the genre toward the alleviation of a very real condition and giving it detailed consequences, Ings has created a very different text – a little reminiscent of Ishiguro's Never Let Me Go.
We have a diverse cast of characters revolving around Adam's life, all with individual flavour and the use of flashbacks never feels jarring to the reader, even when we are drawn away mid scene. The contemporary setting and real south coast locations lend the book a realistic quality, particularly when compared with the more exotic Hong Kong scenes.
In some later sections the plot seems to dissolve into chaos, mostly when the central character's life descends into this state and this is a by-product of the intimate first person writing. When Adam loses his way, we lose our way a bit too, a demonstrable use of the flawed narrator. In this I'm reminded of Effinger's Marid in When Gravity Fails, although Ings is probably a little better on the disintegration, but not quite as good with the conclusion afterwards.
If there is a weakness in the book it is with a few late plot contrivances and the ending, but this is plainly a conscious choice, leaving the much of the story unresolved as a potential ongoing mythology. Ings has used the Bakelite box before and you get the sense it may show up again.
So, if you like your science fiction close to reality and deeply thought provoking, Simon Ings might be the writer to add to your shelf. A read of Painkillers is certainly something you won't forget in a hurry.
You may also like