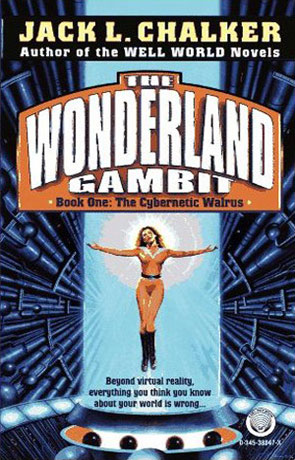 Book details
The Cybernetic Walrus

Publisher:

ISBN:

Published:

1995

Pages:

322

Format reviewed:

Paperback

Review date:

01/02/1999

Language:

English

Age Range:

N/A
About the author
The Cybernetic Walrus is a science fiction novel by the Jack L Chalker.

On my version of this book the title contains the words Book One - which is, if you ask me, a good thing. All too often you have to read the fine print on the back of a book to find out that it's number one in a series - sometimes you will not know that you are reading part one of a series, until you have been left hanging in mid air on the last page. I hate that.

The front page of Cybernetic Walrus also contains the words Beyond virtual reality everything you think you know about your world is wrong*. Before I actually read the story this sounded pretty stupid to me, but in this case its actually true - this is not a VR story in the classic sense (is it possible to call something "classic" in a genre that is not even a decade old?) - it's more like a worlds within worlds within worlds story. Chalker mentions Philip K. Dicks "What is reality" stories in the introduction and I can understand this because this story reminds me of Philip K. Dick - but with a big difference - I have never liked P.K. Dicks novels and I like this book.

The Wonderland Gambit, is the story about Cory Maddox and his search for his true self - if there is such a thing. In his search he meets a lot of interesting people and gets to do his share of heroic actions. The Cybernetic Walrus, is a "warm-up" story to a bigger thing - it is a good enough story to be read on its own and the ending only leaves you hanging a few feet of the ground - but it remains to be seen, whether or not Chalker can keep up the pace. I will tell you when I get my hands on book two.

* Who writes this drivel? The one and two lines on the front covers of books, are supposed to sell the book, not make the potential book buyer puke all over the bookstore!
Written on 1st February 1999 by TC .
You may also like