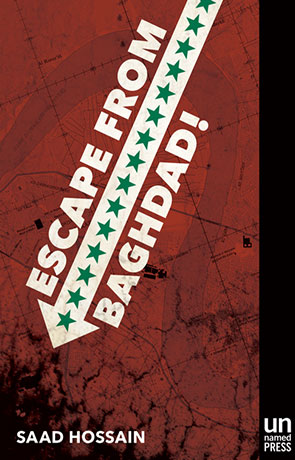 Book details
Escape from Bagdad!

Publisher:

ISBN:

978-1939419248

Published:

March 2015

Pages:

256

Format reviewed:

Paperback

Review date:

04/05/2015

Language:

English

Age Range:

18-
About the author
Escape from Bagdad! is a novel riding the wave of modern, alternative fiction that provides a fresh and marked difference to the over-subscribed European / American setting. As the title implies the story is set in Bagdad during the US invasion. With the American military, Religious fanatics, Mercenaries and Occultists all vying for power it's almost impossible for regular people such as Dagr and Kinza to get by.
Dagr is a former economics professor and the unlikely friend of streetwise hoodlum and sometime dealer Kinza. They are used to acquiring items under the radar but inheriting the former torturer of Hussein's regime is by far their strangest acquisition. Captain Hamid promises untold riches if they can carry out the simple task of smuggling him out the country (preferably in one intact piece). Helped by their US Marine friend Private Hoffman things quickly turn complicated after the discovery of a watch that doesn't tell the time and a vigilante with seemingly super-human powers.
Escape from Bagdad! (not to be confused with the James Ashcroft novel without the exclamation mark) is a daring, modern novel that pulls no punches but manages to describe the horror, futility and incompetence of war. Offset with humour that is at times bat-shit crazy while at other times has a dry, sarcastic, satirical edge - emphasizes the effects of a war-torn Bagdad. There is real power to the prose, describing the effects of war on the people who have to live surrounded by all this death and destruction. At times it's genuinely touching and really tugs at the old heart strings.
The characters are suitably insensible, imperfect people cracked further by environment and thrown into increasingly surreal situations - inter-spaced with a multitude of action sequences. I loved the way the story develops, it starts of as a fairly contemporary tale that slowly melts into a surreal fantasy — a journey that feels entirely natural. The quality of the prose is good and the pacing set just right while the characters feel genuine and react realistically to the many perilous situations they face.
Crazier than a crate full of cats and more surreal than a Salvador Dali canvas — modern absurdity meets alternative adventure, Escape from Bagdad! is the perfect counter-point to the gungo-ho American propaganda stories such as American Sniper.
It paints a much more realistic, and more humorous picture of war in the middle east and how those who have to live through it survive (or don't as the case may be) but it avoids the trap of blaming any one side — each are equally inept.
Escape from Bagdad! is a unique blending of mythology, fantasy, satire and war — an experience not to be missed.
Written on 4th May 2015 by Ant .
You may also like