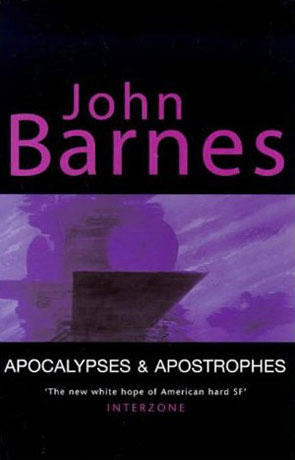 Book details
Apocalypses & Apostrophes

Publisher:

ISBN:

Published:

1998

Pages:

256

Format reviewed:

Paperback

Review date:

27/12/2001

Language:

English

Age Range:

N/A
About the author
Apocalypses & Apostrophes is a collection of short stories by the American author John Barnes.

I think that I got the idea that Barnes is kind of weird around page 25 of Kaleidoscope Century, and nothing I've read since then has made me think otherwise. Apocalypses & Apostrophes confirms my suspicions and then some. The good thing is that this is coupled with a great talent for combining words into interesting sentences. A&A contains twenty-five essays and short stories in just about 350 pages. Which means that I'm not going to comment on every story or even list them, but I'll comment on a couple of them:

Under the Covenant Stars: One of the longer stories at 31 pages. We are in a future where America is falling behind, due to the fact that almost everything is controlled by the church. Really scary story, but also refreshing in the way that the rest of the world seems to do considerately better, than normal.

Empty Sky: 33 pages. Strange story about magic and conservation of energy. Or something. This is where Barnes really shines in my opinion. He goes where nobody else would expect or go them self.

All in all a wonderful collection of strangeness.
Written on 27th December 2001 by TC .
You may also like