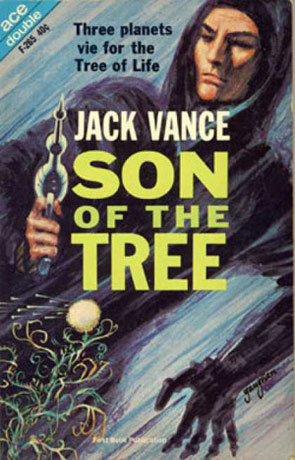 Book details
Son of the Tree

Publisher:

ISBN:

Published:

1974

Pages:

128

Format reviewed:

Paperback

Review date:

20/08/2004

Language:

English

Age Range:

N/A
About the author
Son of the Tree is a science fiction novel by Jack Vance.

SON OF THE TREE-Jack Vance. I loved this story even more. Head in the clouds the arrogant druids of Kyril fed and nutured the 5 mile wide by 12 mile tall tree that was the cornerstone of their religion. They have a full slave society with many layers of economic overgrowth and luxury that is attented to by the lower classes.

Joe Smith is world hopping around chasing after some guy to show him what a slob he is and begins a new phase of money earning on Kyril as a mechanic. He is privy to some sinuous mayhem and ends up bugging out to another planet. If I say more about the plot it might be too much for your wee shoulders to bear so...I'll just say the druids in this book have had their pompous slave set up way too long to support the few on top.. These druids are ruthless in keeping the tree protected from space with suicide bombers and secure constant dilligence. What can anyone do about it? Vance knows.

I wish this story could have gone on much longer as it climaxes as the main tyranny is to be challenged completely with a new excitement tested on another planet. Slueth and adventure, murder and blackmail: Vance flexes his fletched and fungal pottage with a high strung verbal bow.
Written on 20th August 2004 by number 6.
You may also like