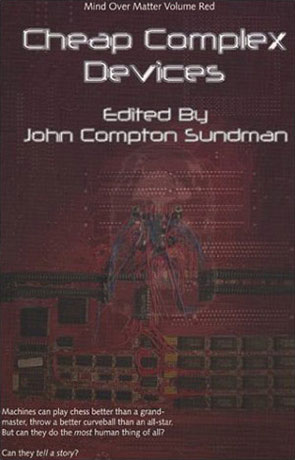 Book details
Cheap Complex Devices

Publisher:

ISBN:

Published:

2002

Pages:

120

Format reviewed:

Paperback

Review date:

30/12/2002

Language:

English

Age Range:

N/A
About the author
Cheap Complex Devices is a science fiction novel by John Sundman.

Sundmans novel 'Acts of the Apostles' was a kind of a weird techno thriller - this one is just weird. The premiss is that once upon a time (about five years ago), there was a computer generated novel contest, where two winners where found. Sundman got the job of publishing them, but then things started to go wrong...

The result is Cheap Complex Devices. About six page of foreword by Sundman, twenty page of foreword from the comity that held the contest and the eighty page long winner novel Bees, or, the Floating Point Error.. I'm just trying to win a little time here, as I got no idea as to what's going on. Bees is interesting, but mostly it's a lot stranger then most stories. It's Philip K. Dick when he is really strange, which takes some time getting used to. But the thing is that both the forewords try really hard to convince us that Bees is written by a piece of software, yet they have exactly the opposite effect, and at times the forewords seem more like fiction than the novel. One of the forewords even, kind of, raises this question and even mentions than it brings nothing of value to the reader to confuse him or her in this way. And thus the circle is complete.

It starts of kind of slow, but about half way through the story finds its stride, and I read the last half in one sitting. Recommend if you feel for something strange.
Written on 30th December 2002 by TC .
You may also like