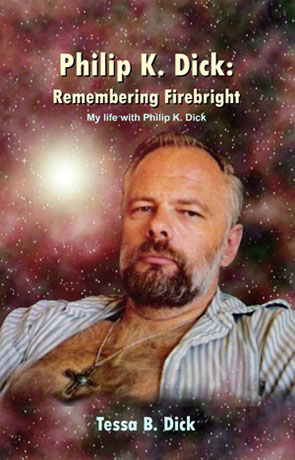 Book details
Remembering Firebright

Publisher:

ISBN:

Published:

March 2009

Pages:

228

Format reviewed:

Paperback

Review date:

07/12/2010

Language:

English

Age Range:

N/A
About the author
Remembering Firebright is a biography of Philip K Dicks later life, written by his last wife Tessa Dick.

I must admit that I am a very big fan of Philip K Dicks (PKD) works, he had a unique raw style that made his stories so easy to read and yet conveyed so well some of the very big topics he wrote about. Theories on subjects such as theology, sociology and political ideas along with the nature of personal identity, reality and the human condition. Many of his works featured authoritiarian governments and monopolistic corporations in futuristic and occasionally dystopian settings.

His literary achievements are, in my opinion nothing short of genius, but as genius is one very small step away from insanity, PKD did suffer from mental afflictions and was in some way haunted in his later years by trying to figure out the truth behind the many visions he saw. He was also severely agrophobic and found it difficult just leaving the house.

Despite the fame and success he enjoyed during his lifetime which included winning a number of literary awards, he never acheived monetary success. PKD is one of the most successful authors as far as converting his stories into film, with Bladerunner - based on the PKD novel "Do Androids dream of electric sheep" still considered by many to be finest science fiction film to date, despite big differences in the screenplay and book. Other films include Total Recall, Screamers, Paycheck, A Scanner Darkly, Radio Free Albemuth, Minority Report and the yet to be released King of the Elves (based on a short story written in 1953).

Tessa Dick was PKD's 5th and last wife before he passed away at the untimely age of just 53 in 1982 and in this book she writes about their life together in an honest and uncluttered manner, very much in the style of a monologue. As the book is self published there are however quite a number of grammatical errors still present. Tessa describes in detail some of the landmark moments in PKD's life, from the infamous visions that began in 1974 to the creation of VALIS and his yet unpublished Exegesis (due to be released in two parts starting in 2011) all the way to his untimely death. Tessa also describes his mental afflictions, his crippling agrophobia and his search to find answers to his visions, much of which were written in notes for his Exegesis.

It's an incredible story with a unique window into the life of the legend, but one that's also quite unsettling with many unanswered questions (this is not a criticism but simply due to PKD or Tessa not knowing), why did his house get so completely ransacked, why did people set up surveillance equipment in a house next door? There are also many questions answered and many theories and rumor's debunked, including the fact that Tessa never saw him take any illegal substances.

Much of the writing that concerns PKD's visions, hallucinations or beliefs are told without prejudice or judgement, it's left up to the reader to decide what they believe he really saw and felt.

I am also staggered to see just how many very famous people PKD knew, which include the great scifi authors Robert Heinlein, Robert Silverberg, KW Jeter (who wrote a sequel to Bladerunner) and even a phone call from the late John Lennon.

Remembering Firebright is a bittersweet journey told in an raw, honest and heartfelt way, a must for any PKD fan.
Written on 7th December 2010 by Ant .
You may also like