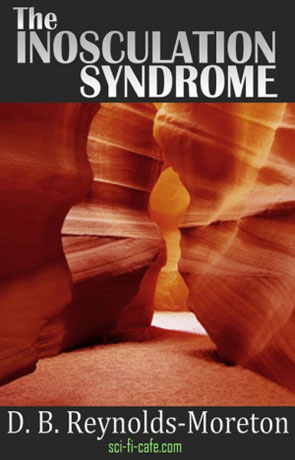 Book details
The Inosculation Syndrome

Publisher:

ISBN:

Published:

August 2011

Pages:

Format reviewed:

Hardback

Review date:

10/02/2012

Language:

English

Age Range:

N/A
About the author
Another novel being published by those good people at Scifi Cafe, The Inosculation Syndrome is something of a surprise.

The book tells the story of the astronaut Kal who becomes stranded on an alien planet due to a series of errors after losing touch with his star ship while charting regions of space. With little more than the shirt on his back we follow Kal as he wonders this savage wilderness and eventually stumbles across a Tribe of little people living in a cave and almost extinct due to the wildly savage flora and fauna.

Kal encourages this small group in technical and cultural aspects who adapt and change at a breathtaking pace. But there is another technological force at play on the strange planet, a relic of some past civilisation, or something more current?

I was pretty impressed with this book, there is a relaxed and friendly voice and such an effortless manner that really draws you into this story. The prose is fairly uncomplicated and yet confident which further helps to speed up the pace, which without much backstory or world building moves pretty fast anyway.

The actual planet is reassuringly alien with some strange creatures and even stranger plants, all described in concise detail which comes across as being quite feasible; the overall feeling of being marooned on an alien planet is just great. Kal is an interesting character but we don't really learn that much about him, the focus firmly placed on the situations and discoveries along with the gently unfolding plot. The characterisation as a result is a little lacking and while Kal does seem a likeable fellow we just don't know enough about him to form any real bond.

What does work really well is the intelligent way that Kal's survival on a hostile planet is described, the author has clearly a good deal of knowledge on the subject or has at least done a lot of research resulting in a very believable method of survival.

This theme of lone survivor having to use his intelligence and wit to survive is certainly one that has been done before but the story branches off from this around a quarter of the way through with the discovery of the Tribe. The story then takes a sharp turn and becomes one of learing who these creatures are, why they are one the planet and just how they manage to learn so fast. This turn in the tale is perfectly judged and prevents the story from becoming stale.

I must admit that I didn't much care for the actual name of the book, I do understand the idea behind it but for me it doesn't trip off the tongue and feels too unwieldy. Don't let it put you off though, The Inosculation Syndrome is quite entertaining and different enough to warrant a read.
Written on 10th February 2012 by Ant .
You may also like