Bang Bang Bodhisattva
By Aubrey Wood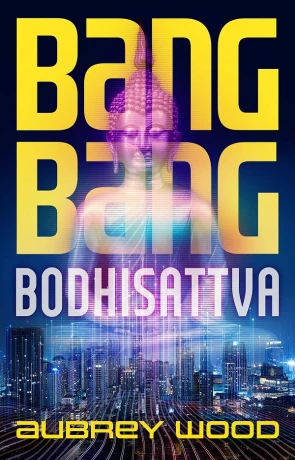 Book details
Bang Bang Bodhisattva

ISBN:

9781786187017

Published:

May 2023

Pages:

408

Format reviewed:

Paperback

Review date:

10/05/2023

Language:

English
What is the near future going to be like, utopian, dystopian, a bit of both. Chances are that it will be just as messed up as the past and the present. The future may be a little grim, but that does not mean it cannot be fun. Aubrey Wood's future is as bright as neon, but also as dark as pitch. Bang Bang Bodhisattva is both a futuristic thriller and classic noir, a tomorrow where people can be who they want to be, but the fascists will still try to keep them down.
PI Angel Herrera and hacker Kiera Umehara make an odd team, mostly because Angel keeps hiring Kiera when she does not want to work for the detective, but what Angel needs is someone with computer skills and who is handy with a weapon. One case becomes a little too personal for them both when they stumble across the body of someone, they both know. Now the less than lenient police force are after them for murder. They may not have done it, but that is just paperwork.
Bang Bang is a joyous kaleidoscope of ideas, characters, and genres. The characters refuse to be pigeonholed, so why should the genre. It is cyberpunk, urban fantasy, and classic noir all rolled into one, but with an added dark humour. This is a near future that could happen, gender and sexuality are elastic, but those that oppose this have become more rigid. The police and Politian's more reactionary than ever. This is the backdrop that a PI and their partner must work under, where one wrong move may get you a broken nose, shot, or worse, arrested by the police.
Crime is a great foundation to build any science fiction or urban fantasy on as it gives the book a solid foundation. There are a lot of ideas and character interactions happening in Bang Bang, but Wood's use of a classic feeling noir centre gives structure to the book that allows more of the madness to hang from it. Wood does not just write something like a classic noir but leans into the genre. Angel is a PI out of time, Marlowe to Kiera's mellow. The relationships are great fun from Kiera's polyamorous relationship, to whatever is happening with Angel. What really sparks is the growing respect and friendship between the two investigators, a bond forged in adversity, but one that you feel will last.
The crime thriller element of the book is done well and has the twists you would hope from the genre, and I loved all the characters. What elevates the book further is that these sit on top of something more. Wood hints about the messed-up world we find ourselves in, of pop culture wars and lives spent in VR or online. Sexuality, relationships, fascism, are all explored on top of a cracking crime case. The story is never bogged down and zips along at a nice pace, with plenty of dark humour to keep the reader entertained.
You may also like