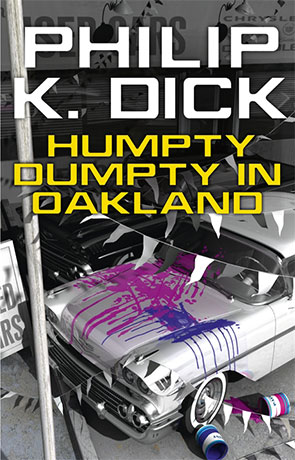 Book details
Humpty Dumpty in Oakland

Publisher:

ISBN:

978-1473209572

Published:

July 2015

Pages:

256

Format reviewed:

Paperback

Review date:

17/08/2015

Language:

English

Age Range:

N/A
About the author
I'd probably be best beginning this review by mentioning that Humpty Dumpty in Oakland isn't actually science fiction. It's a realist work of dark comedy. For some reason whatever miss-guided fool wrote the wikipedia entry for this book called it "non-science-fiction". Surely "non-science-fiction" is more accurately described as "fiction"? You might as well call it a "non-movie" or "non-banana".
Anyway, PKD wrote this book way back in 1960 however it didn't see the light of day till Gollancz published it post-humously in 1986, being originally rejected for publication for reasons lost in the 55 years since.
Apart from the lack of science fiction elements Humpty Dumpty in Oakland has all the hallmarks of a PKD novel — interesting characters, subtle humour and that gritty reality that fits perfectly with the unhurried pace and attention to the little details. Many of the authors books have this feeling however reading one without any science fiction elements is a little strange. I kept expecting "something" out of the ordinary to be introduced on the next page. It left me with a feeling that there was something missing — like expecting a surprise party that never happens (a non-party perhaps).
The story follows the Garage owner Jim Fergesson who decides to sell his business and retire following poor health. Al Miller, a car-salesman, sublets the Garage forecourt and of course becomes concerned that his livelyhood is on the line. Then Chris Harman, owner of a slightly dodgy sounding record company, finds out Jim is selling up. Chris relies on Jim to maintain his cars.
Chris, finding out Jim will of course have a sizeable bank balance, tips him off to a "cast-iron" business investment. Al becomes convinced Chris is up to no good but ends up asking him for employment before delving too deep into whats actually going on.
The stand-out moments of this book are the times that Jim starts to lose the plot, sometimes becoming self-reflective while at others imagining what would happen if he died, right there and then. It's these journeys into the human psyche that mark the authors understated talents. His ability to write about the mundane in such a thought-provoking manner with an almost visual acuity is nothing short of remarkable.
On the surface there doesn't seem to be much going for Humpty Dumpty in Oakland, there isn't really any action or violence to speak of, very little to get the heart beating. The journey though is a snapshot in the lives of these mundane people and its a fascinating, thought provoking journey that gets you thinking about life, death and the bit in between. Non-boring, Non-dumb, non-science-fiction.
Written on 17th August 2015 by Ant .
You may also like