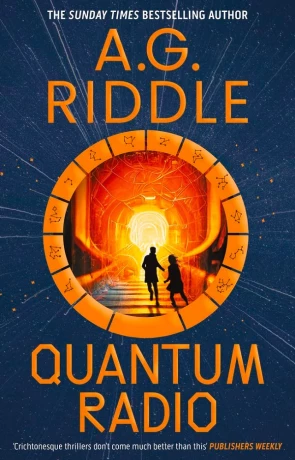 Book details
Quantum Radio

ISBN:

9781803281698

Published:

March 2023

Pages:

512

Format reviewed:

Hardback

Review date:

14/04/2023

Language:

English
About the author
I do not like to think too much about the Large Hadron Collider, I let better minds than mine consider hurtling atoms at each other at considerable speed to access some sort of God particle. I get nervous enough around the toaster. Other things go on at CERN too, the invention of the internet for one. Scientists will science, even if they do not have access to the Collider itself. Perhaps the data has some interesting things to tell us? Could there be a hidden message found in the noise of the infinite? In A G Riddle's Quantum Radio Dr. Tyson Klein may have discovered such a message.
Dr Klein has always had a special genius, even among the prestigious scientists at CERN, but can he convince his contemporaries of the message found within the infinitesimal void? A shadowy group believes him, but rather than embrace the experiments, they want them stopped and if that means killing Ty, so be it. Ty goes on the run only to discover a conspiracy that will not only change the entire world, but worlds.
Riddle is an author who deals in grandiose ideas, the type of things that you would pitch to a movie executive, and you can see Quantum being made into a movie or an expensive limited series. It has that single concept at its core that an audience can grasp onto. What if there are other worlds out there? The multiverse is a popular subject matter now as I have read several books in the genre recently. How an author goes about exploiting them is what makes the books feel different.
Riddle has gone for a simple approach and one that uses the multiverse as a way of accessing an Alt History story. Rather than having countless worlds, Riddle sticks to two for now, but as the book progresses you start to understand that this book is an introduction to a larger series of books, to worlds yet explored.
The future for the Quantum books feels infinite, but for now Riddle needs to explain where we are. This is an author from the much-missed Michael Critchton school of speculative fiction. Take some science that is real and then extrapolate from it to make an action-packed story. Like the later Critchton books Quantum suffers with pacing, especially at the end of act one and start of act two. Four main characters are introduced, and they all have unique skills. This is to allow pages of exposition as they talk to one another about an area of science, psychology, or history.
Done well, exposition is seamless and keeps the reader informed. In places Riddle overindulges. The idea that a maverick US Marine would have such a good knowledge of the British war effort in World War 2, feels farfetched. I studied this subject matter and even I would struggle to have such good recall and have no expertise in explosives of a bad case of post-traumatic stress. The middle of the novel sags as so much is explained about the science in our own world and the history of another.
This is a shame as once the pace picks up again, it is a fun book. The four characters begin to understand that they have been brought together for a reason and a heist element keeps things moving. There are villains to jeer at and heroes to cheer – if they just stop talking so much. Quantum is a pulp novel with plenty of science, some of it pseudo, thrown in. It is fun, a little bloated in places, but would make an enjoyable read on a train or plane for someone missing the likes of Jurassic Park or Congo.
You may also like