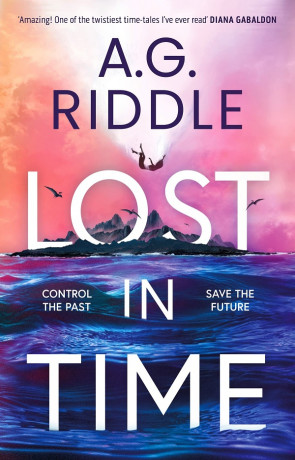 Book details
Lost in Time

ISBN:

9781804541760

Published:

September 2022

Pages:

464

Format reviewed:

Hardback

Review date:

07/09/2022

Language:

English
About the author
Time travel is fascinating, it is also some of the most fictional science fiction you will ever get. What has happened must have happened, lest you rip apart your universe in a paradox. The scientists in A. G. Riddle's Lost in Time seem to have found a workaround as they send the worst criminals into the past of another timeline. That is all well and good until the day we all wake up with heads like a fly because someone pressed the wrong button. I do not think that will happen in this book, but you will have to read it to find out.
Dr Sam Anderson is one of the founders of Absolom, a company that invented a machine that can send people to the past. With billions in the bank and a new love in his live, Sam's life is blessed, but when a murder happens, he is the main suspect. If found guilty the sentence is to be placed in his own machine and sent back in time. Can his colleagues and family save him? If they cannot do it in the present, can they find a solution in the past?
High concept science fiction can be so much fun. Lost is in the Michael Crichton school of grandiose ideas. Sending criminals to the past for punishment makes little sense, but you are not meant to think too deeply about it. Instead, enjoy this twisty thriller that has the added fun of time travel. The book opens as a crime story, but soon splits between the present and the past. Chapters move from one between the fates of Sam and his daughter Adeline.
This middle section of the book is part adventure story, part crime thriller. Between the action set pieces we also get plenty of flashbacks to develop the characters further. But this is a time travel novel and things do not have to settle on only two timelines. The book takes an exciting twist and begins to reveal more of its true nature as it progresses towards the conclusion. Even as an experienced reader, I did not see many of the twists that the book had coming.
Even though the stakes are high, I found this a fun book. It is an entertaining and breezy read. The characters are among some of the most talented scientists that the world has ever seen, but they are also as daft as a brush on occasion. This juxtaposition felt a little silly but did make for a more pacy read.
The style of writing is aimed at making it readable. The science is covered, but at a level that will not confuse most readers. I did think there are a few naïve assumptions in the book. One being that sending criminals to the past would stop crime. Why? It is just an alternative death penalty and that has not worked to stop all crime. Another strange thing is the complete paradoxical nature of the story. What came first the chicken or the egg? This book seems to suggest that it was neither and both at the same time. Time travel stories always risk falling foul of paradox, but Riddle almost embraces it. The characters even mention that it does not really make sense.
Lost is not meant to be read as hard science fiction, but as a lighter techno thriller, the type of thing you may purchase on the spur of the moment when waiting for a plane. As a mainstream thriller it ticks all the boxes; light, fun, thrilling. Those that read science fiction as their main genre may be little offput by the lack of structure to the science, but I would still recommend this book as a fun and quick read that will surprise even experienced readers with the directions it takes.
You may also like