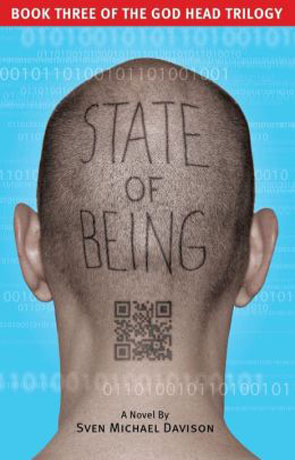 Book details
State of Being

Series:

God Head Trilogy

Publisher:

ISBN:

9780985552893

Published:

March 2013

Pages:

426

Format reviewed:

E Book

Review date:

08/07/2013

Language:

English

Age Range:

N/A
Books in the series
About the author
State of Being is the third novel in the God Head trilogy and follows directly on from the cataclysmic events in State of Union. Jake Travissi is on the run, having lost everything he cared for and the future looks bleak with AI taking over the surviving population; the only hope may mean going into outer space and beyond.
One of the things I like the most about this series is the scale of the story, the author isn't afraid to make BIG changes, sacrifices and put the protagonist into seemingly impossible situations, this finale is no exception. When we begin this book the world unimaginably different than the one we inhabit right now and yet the steps to get to this post-apocalyptic stage have been not just feasible and justifiable but soberingly possible too. The author has a way of describing future tech in a very easy to understand manner, taking the current advances around right now on the next logical step in the journey of progress.
Is it really likely to be that long before we have a chip in our heads? We are already living in a world where we can control artificial limbs with our brains,
Written on 8th July 2013 by Ant .
You may also like