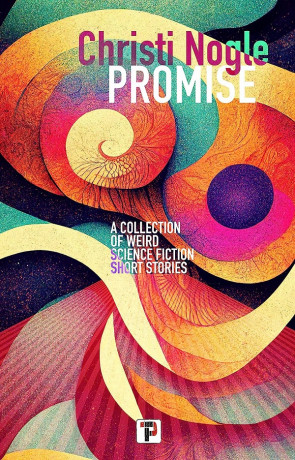 Book details
Promise

Publisher:

Flame Tree Press

ISBN:

9781787588134

Published:

September 2023

Pages:

208

Format reviewed:

Paperback

Review date:

08/09/2023

Language:

English
I set a high bar set for science fiction short story collections that is in no way the fault of any modern author. Unfortunately for them I read The Illustrated Man by Ray Bradbury at an influential age. I rate a collection against the creepy science fiction/horror tones that Bradbury was able to create. Stories that I still think of on occasion years later. Almost no collections manage to match this classic, but many are not even able to evoke similar feelings. Promise by Christi Nogle does, aptly calling itself a collection of weird science fiction stories.
The modern world is uncanny enough, but through the creative eye of a science fiction author you can pick away at the surface to look underneath. Promise is a series of short stories that cover speculative fiction, horror, sci fi and more. Themes rise to the top; the role of the government, the influence of others, COVID. Nogle explores the modern world through a set of 21 stories.
I do enjoy a short story and with an average page count of ten pages, the ones found here are true short stories. No hanging around and creating a novelette. There is an art to creating a narrative that can be complete in so few words and Nogle has that skill. In almost every case the reader is up to speed with the characters and situation within paragraphs, giving the author time to explore. You are not left floundering by poor descriptions or a lack of world building.
Some themes and characters are shared across the stories. A character who relives their life changing it each time appears in one story, only to be evoked in another. In this sense, the stories feel like part of a whole, within the same environment. They could be set in the future, or on another planet, but you get the sense that Nogle's voice is pure throughout and that it is the same universe.
Looking at the date that many of the stories were written, the pandemic and lockdown comes to the fore in several of the tales, from a couple who find themselves staying home and changing into something else, to an author who voluntarily enters a virtual retreat only to be trapped there far longer than they would ever have wanted. The stories work, but a reader will bring their own baggage. To draw different emotions out of different readers is a powerful skill.
Many of the stories are simply good 'fun.' A father who trains his daughter how to hunt a different type of game, or a mother who looks after their child visiting alternative versions of the father. These and other stories are solid high concepts and Nogle does interesting things with them. There certainly is a weird feel to the science fiction, but it is also a little cynical and dark. Like Bradbury, there is not always a lot of hope to be found in this collection, but certainly a lot to think about.
Promise is one of the most enjoyable collections of short stories that I have read recently. The tales may vary, but a sense of voice and place threads through them. These are stories written by the same writer and that makes them flow well together. I enjoyed the tone of the stories and reoccurring themes.
You may also like