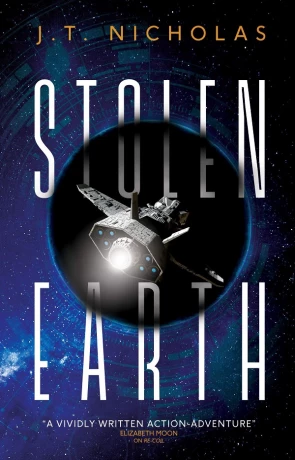 Book details
Stolen Earth

Publisher:

ISBN:

9781789093155

Published:

September 2021

Pages:

384

Format reviewed:

Paperback

Review date:

28/09/2021

Language:

English
About the author
Space travel is often painted in a glamourous fashion. Sleek ships sail among the stars as the crew members go on daring adventures, but the reality would be much more cramped. The planet Earth may feel a little crowded at times, but compared to being in a space craft, we can walk for miles and breath the fresh air. In Stolen Earth by J. T. Nicholas, humans have been forced to flee the planet as they released poisons into the air and AIs that are obliterating our race. Now what is left of our kind is holed up in a series of space stations and space craft. Even the haves don't have that much room and they don't seem to care about the have nots.
The crew of The Arcus are freelancers. Some would call them mercenaries, other pirates, but they stay close enough to the law to keep under the radar. They live on the fringes of known space as they are wanted by the ruling Sol Commonwealth. When they are offered a mission to fly down to Old Earth to retrieve artifacts, they are in for a big pay day, and they need that money. The planet is off limits, defended by deadly satellites and AIs, and the air is not even breathable. What could possibly go right?
Stolen is a pacy adventure book that I miss reading more often. Too many books are parts of a series of try to be space operas. This book is a one and done adventure that starts off at a fast pace and does not slow down too often. The crew of The Arcus are not your typical ragtag band of rogues; the captain is a former decorated Navy officer, they have military, computer, and engineering experts and even a mercenary, who acts like a mercenary. They mostly find themselves onboard, not by choice, but circumstances.
Nicholas is able to explore these reasons by splitting the story up into different perspectives. We follow most crew members at one time or another as they go on their adventure. This has the dual purpose of moving the story on, but also learning more about their back story. There is a lot more to the crew than first meets the eye, this gives us an insight into the choices they make, but also means that we care.
It is the choices that are made, which makes this such an interesting book. Typical mercenaries would have jumped off the narrative thread early, but this lot are morally invested. What begins as a typical caper story evolves as the crew meet new scenarios and decide to help. They are pushed on from one situation to another, hoping that each time they can find a way out. It can feel a little like a series of fetch quest, but the journey allows Nicohlas to explore some interesting ideas.
Along with a fun adventure, Stolen raises several questions. Can you trust an AI or a government? Where do your morals lie? Nicholas has created a world in which one thing is taught, but the truth is another matter. One small crew may just have enough impact to alter the way in which all the remaining humans will live in the future.
Stolen does have shades of Firefly about it. A band of Ne'er-do-well who have a strong moral compass. The setups may be similar, but the location is different. This is a near future Earth and the surrounding space. This allows Nicholas to give the book a different feel to the much-loved TV show. Events are wrapped up (potentially) in just one novel, giving the book a punchy pace and satisfactory ending. If you are on the lookout for a space romp, this will be the book to read.
Written on 28th September 2021 by Sam Tyler .
You may also like