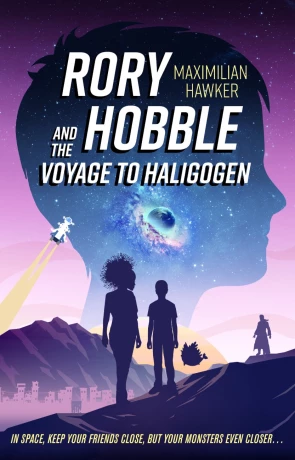 Book details
Rory Hobble and the Voyage to Haligogen

Author:

Maximilian Hawker

Publisher:

Unbound

ISBN:

9781789651256

Published:

July 2021

Pages:

360

Format reviewed:

Paperback

Review date:

16/07/2021

Language:

English
I remember being a young science fiction reader and scouring the shelves of my local library looking for works designed for my age group. The only one I ever remember getting my hands on was Batteries Not Included by Seth McCoy. The modern 8–14-year-old reader has so much more choice, from different reading levels to how much of an emotional impact their books may have. I arrived early to the adult Science Fiction section and was exposed to some big ideas while still young. Rory Hobble and the Voyage to Haligogen by Maximilian Hawker shows that modern YA sci fi can still have big ideas, pack an emotional punch and be accessible.
Rory Hobble already feels like he lives a life removed from others. He has OCD and a mother battling mental health issues. They live together in a one-bedroom flat. School is not the escape it should be as bullies have found Rory an easy target. When the new social worker comes to visit, Rory believes it will be just another professional in his life, but Limmy is no ordinary person. All their lives are about to change when Rory comes across a strange creature. This chance meeting leads to an epic adventure that will see Rory have to take the responsibility of saving his mother.
Rory Hobble is a multi-layered book, only one of which is Rory's OCD. Hawker has great knowledge in this area and handles the OCD brilliantly. At no point is the OCD a character, it is just one part of Rory's entire make up. There is far more to him than one thing. What the OCD does do is create interesting directions in which Rory goes. He is prone to blaming himself for problems and self-doubt. This can lead to not paying attention or walking into danger. It also makes him sensitive to the new world and the creatures that surround him.
In some cases, the creatures literally surround Rory as this is a book that is about grandiose ideas. Having an OCD character as your protagonist is big, but Hawker has many other ideas. The story is a classic feeling space adventure that has a pulp appeal, but also many intelligent science fiction ideas that are explored via Rory and the people he meets. Organic ships, cities built on the edge of known space. For an inquisitive mind, these meaty science fiction concepts will be eaten up.
The heavy concepts do not stop with Rory's characteristics and the world building. This is also an emotional book. There are themes of bullying, mental health, abuse, and death. Nothing is shied away from, and Rory must live through it all. As this book is aimed at a youth audience, it would be worth considering their emotional maturity. As an adult I found some parts hard going. It is important to speak truth to young people and Hawker does. Just be aware that this book may trigger some conversations.
The core of Rory Hobble is a classic narrative. Young protagonist is ripped from their own life to go on an amazing adventure, discovering on the way that they are special. This chimes well with a younger audience. While the likes of Harry Potter had its own dark themes, they never touched as deeply as Rory Hobble does. This is next level emotional minefields. It would make an enjoyable book for a confident reader who loves exploring new lands and new ideas.
You may also like