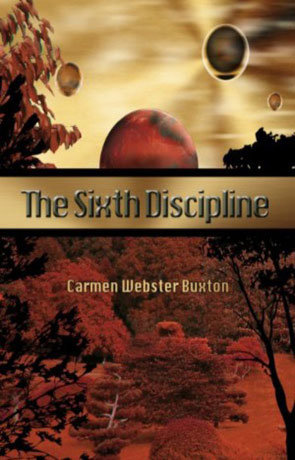 Book details
The Sixth Discipline

Publisher:

ISBN:

Published:

March 2011

Pages:

Format reviewed:

E Book

Review date:

15/07/2011

Language:

English

Age Range:

N/A
About the author
Trained in the mental and physical disciplines of his people, Ran-Del Jahanpur is a warrior of the Sansoussy Forest. Overconfident in his abilities he is all too easily caught when he sets off a high tech trap. He finds himself transported to a strange alien city where machines speak, metal boxes carrying people fly and strange weapons inflict gut-clenching pain without ever touching the victim.

Ran-Del's kidnapper is the enigmatic Baron Hayden who exudes a jovial affability that worries the Sansoussy even more than his many failed attempts at escape. But what possible reason could people of such powerful technology want to capture someone of the Sansoussy, someone who can't read or write and knows nothing of city ways.

The Baron's daughter Francesca knows more than she lets on, Ran-Del's abilities tells him only she's is being truthful, but of course not what she's really thinking. It's only when it seems Ran-Del has escaped the city and its dangers, that he finds out how thoroughly he has been caught.

The Sixth Discipline takes an individual that has no knowledge of technology and places him in a technologically advanced city, not an original idea, it's been done many times before - all the way back to HG Well's Time Machine with the Morlocks and Eloi, but nevertheless the story here is presented with a degree of talent and I did find myself interested in the reactions in the same way the scientists were. The study is secondary though, there is a very different goal here and the main plot does work surprisingly well with plenty of twists and turns, a few of which were even unexpected.

I did find the characterisation a little cold though, there isn't a great deal of emotion present in the dialog which gives a flat and emotionless feel to the novel while also preventing that all important bond with the main characters. The romance angle was well thought out (even if I personally don't like romance in a novel) but lacked emotional impact. As a result I didn't find myself caring about the plight of Ran-Del as I should have.

The convergence of technology with fantasy elements does work well and is suited to the authors style of writing and the way that the characters learn about the disparate cultures is one of the strong points of the novel. That said the structure of some of the sentences felt disjointed and jarring with other parts of the narrative, disturbing the otherwise smooth pace.

The finale is well orchestrated and worth persevering for - the ritual's and politics' intermingle surprisingly well and one the whole I did enjoy the novel, but the issues with structure and emotion prevent The Sixth Discipline from becoming an essential read.
Written on 15th July 2011 by Ant .
You may also like