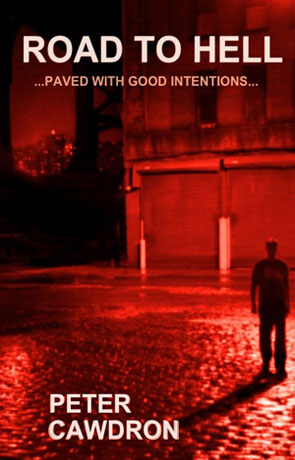 Book details
The Road to Hell

Publisher:

ISBN:

Published:

June 2011

Pages:

282

Format reviewed:

E Book

Review date:

04/11/2011

Language:

English

Age Range:

N/A
Not to be confused with the A589 (which is the road to Morecambe) or that very depressing Cormac McCarthy novel, The Road to Hell* (now known as Out of Time) is indeed paved with good vibrations intentions, in this case that road involves a future that uses a limited form of time travel.

During the closing stages of the next world war Susan's sister Olivia goes missing, decades later she find evidence that her sister is still alive and hires a private eye to track her down. Find her may be more difficult than first appears however as all evidence points to Olivia being caught up with Artemis, a genetically-engineered soldier who can move through time, but only for very short periods of seconds to a few hours.

The novel has a very strong opening that sets a fairly fast pace that doesn't let up for the duration with good use of dialogue and an intriguing plot. There are some great ideas used effectively within the story however there are also some real cliché's too, the most striking when the character "Harrison" leads Susan to his beat up space ship near the start of the book, it's almost identical to the scene in the original star wars film where Luke and Obi Wan first board the Millenium Falcon.

While it's often nice to give a nod to those classics it seemed a little too much here, especially so early on in the book. Further on and there are a number of elements that have been seen elsewhere however these are combined quite effectively into this dark future vision. The use of the 4th dimension to explain these small shifts in time is very creative and implemented very effectively.

The story is split into two main story arcs, one that follows Susan and Harrison's hunt for her sister and that of her sister Olivia and her genetically modified boyfriend Artemis. The novel alternates between these two arcs which help break up the action nicely - the Olivia thread get's most of the excitement in the first half of the book. The quality of the writing is excellent, with a lively modern feeling which fit's in very well with the rich, dark scifi setting which creates a powerful ambience and a firm voice. The pace is fast and full of action and the story interesting enough to keep you gripped to the book.

Despite the different ideas that have been borrowed from scifi series and films I must admit that I found myself quite enamored with the book, it's got a really great sense of style and some powerful characters while the lack of info dumps, exposition or world building really helps to keep the story moving forward.

Strong dialogue, interesting characters and a really great style all helps to create what is a actually a great read, recommended.

*Update - Since this book was given to us for review it has had a name change, it's now called "Out of Time" but in all other respects is exactly the same.
Written on 4th November 2011 by Ant .
You may also like