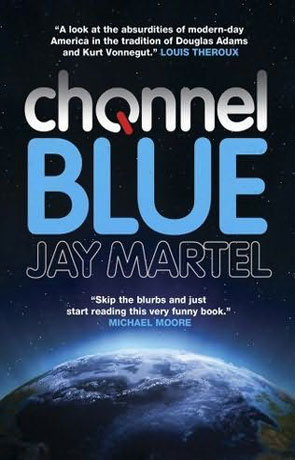 Book details
Channel Blue

Publisher:

ISBN:

B00DKMVMMU

Published:

December 2013

Pages:

384

Format reviewed:

Paperback

Review date:

09/01/2014

Language:

English

Age Range:

N/A
In Channel Blue the Earth is essentially an entertainment show, think "The Truman Show" on a world-wide scale. For many years Earth was Galaxy Entertainments most successful show attracting the western galaxy's richest and savviest viewers.
Nothing lasts forever though and lately ratings have begun to dive, with little idea of how to rescue the show the producers decide on a spectacular finale. In three weeks Earth will go out with a bang, literally.
Only one man, the unlikeliest of unlikely heroes could possibly save the day, if he can think of a decent script that is...
There is a clean, refreshing humour running throughout Channel Blue, off-the-wall and slightly crazy and faintly reminiscent of the late Douglas Adams - perhaps in part as the story also deals with the destruction of our fair blue planet.
The author manages to poke fun at most aspects of modern life in a way that encourages reflection and self-examination, it's clever writing that is also very easy reading. This intelligence extends to the characters too, the main protagonist is about as far from the perfect hero as is possible to get - and yet he is someone you can sympathize with, engage with and ultimately root for, despite - or perhaps as a result of - his numerous failings.
The story is just as clever too, plenty of twists and turns permeate the plot - perfectly matched with the humour and supporting cast of misfits and aliens. I very much enjoyed the relaxed style and wit of the authors voice - it's quite upbeat and warming upon which the funny, disarming and refreshingly inept characters are placed. It's one of those books that are effortless reading and yet are much more than they appear.
The story jumps along in a hap-hazard manner much in the way of a young laborador, full of endless enthusiasm, boundless energy and seemingly without much thought as to what direction to take. Looks however are deceiving and there is an intelligence and path behind everything if you look for it. There is also a clear, somewhat sarcastic insight into the world of entertainment and you can get some feel of just how much experience the author has in this field, experience very effectively used here.
Channel Blue is witty, clever and a rewarding, easy read which manages to have hidden depths for those who seek to find.
Written on 9th January 2014 by Ant .
You may also like